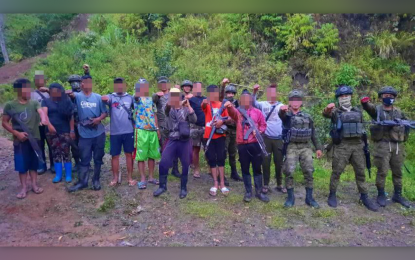 CAMP SIONGCO, Maguindanao – Some nine combatants of the New People's Army (NPA) have surrendered to state troopers in Lebak, Sultan Kudarat, the military here announced Friday.
Lt. Col. Allen Van Estrera, Army's 37th Infantry Battalion commander, said the surrenderers used to operate under the NPAs Far South Mindanao Region. They turned over two AK-47 rifles, an M16 rifle, a Carbine, a 9mm submachine gun, two .345-caliber pistols, and an MK2 hand grenade.
Estrera attributed the success of the surrender program to the intensified intelligence operations of the 37IB.
He said the rebels cited hunger and exhaustion as the primary reasons for their return to mainstream society.
Maj. Gen. Juvymax Uy, Army's 6th Infantry Division commander, said the surrenderers have "made the right decision."
Since January this year, a total of 61 communist rebels were neutralized in Central Mindanao, five of whom were killed in encounters, 53 surrendered, and three apprehended.
The CPP-NPA is listed as a terrorist organization by the United States, the European Union, the United Kingdom, Australia, Canada, New Zealand, and the Philippines.
The Anti-Terrorism Council also formally designated the NDF as a terrorist organization on June 23, 2021, citing it as "an integral and separate part" of the CPP-NPA that was created in April 1973. (PNA)