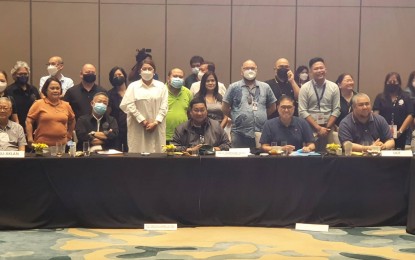 ILOILO CITY – The provincial government of Aklan has denied breaching the daily threshold on the carrying capacity of Boracay Island during the Holy Week and assured that it will stick to the recommended 19,215 capacity at any given time.
"Technically we did not breach the carrying capacity of the island. We have agreed with the (Malay) mayor (Frolibar S. Bautista) already that we have to synchronize our numbers because we are basing our numbers on the actual tourists that pay the terminal fees in the Jetty port in Caticlan and Cagban," said Aklan Governor Florencio Miraflores during a press conference on the island on Friday.
He said recorded was the number of tourists coming to Boracay but those leaving the island were not reflected.
Miraflores said they are looking at putting a cap based on the number of QR codes being generated by their system.
"As per advice by the DILG (Department of the Interior and Local Government) we should make sure that we will not exceed the 6,400 arrivals a day. If that would be the case then we can do so by putting a cap on the QR code that is issued on that particular day," he said.
The governor added that they only surpassed the arrivals on Maundy Thursday when they recorded 12,176 tourists but 4,320 guests also left the island on the same day.
For April, the average arrivals are less than 6,000 a day, he said.
While he could not give the exact time when the cap will start, Miraflores has already instructed their Information Technology (IT) personnel to do it in such a way that there is no disruption on the arrival of tourists.
He said a proper study will be done and ample time will be given to allow tourists to adjust to their guidelines.
DILG Undersecretary Epimaco Densing III, in the same press conference, said they are looking at 2023 for the review of the carrying capacity, which is done usually every five years depending on the development of the island.
"It is the responsibility of the local government units to make sure that it does not exceed the carrying capacity and as far as we are concerned the national government agencies –DILG, DENR (Department of Environment and Natural Resources), we're monitoring to ensure that local government are complying with the carrying capacity ," Densing said.
On Friday, the Boracay Inter-Agency Task Force (BIATF) chaired by DENR Secretary Jim Sampulna convened on the island and discussed updates on various rehabilitation interventions and how they will move forward as their mandate is about to end on June 30, 2022. (PNA)