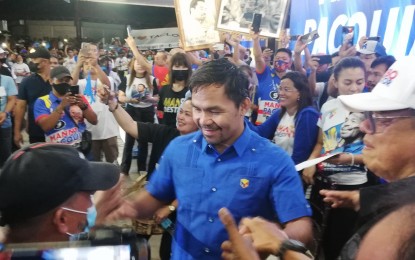 MANILA – In yet another reference to his impoverished beginnings, presidential aspirant, Senator Manny Pacquiao, on Friday said he is dedicating his candidacy to poor Filipinos.
In a campaign sortie in Ormoc City, Leyte, Pacquiao said he will never forget where he came from.
"Ang kalisod sa kinabuhi na akong naagihan mao na og naghatag kanako proteksyon para tabangan ang katawhan nga nagakalisod (The hardship in life I have experienced in the past have given me inspiration to help other people who are also suffering from poverty)," he said in Visayan, urging the crowd to rally behind him in the May 9 elections.
Pacquiao reiterated his presidential bid is a "revolution" to address poverty in the country.
"Mga igsuon, para masayod mong tanan, ang Manny Pacquiao lumalaban hindi para sa sarili kundi para sa katawhan (Brothers and sisters, for your information, this Manny Pacquiao is fighting not for himself but for the people)" he said. "Gusto ko panalo naman ang mga mahihirap (I want the poor to win this time)."
If elected, Pacquiao said he will push for equality among the poor and the wealthy.
He will also fight hard against corruption to end the country's long-time problem of poverty and promised free housing for the underprivileged.
"Naa pobre nangawat pagkaon kay nagutom gipreso. Dili kana tama nga hustisya para sa atong katawhan. Ang mga naa sa gobyerno bilyon-bilyon ang ginakawat wag gid mapreso (There are poor people who were imprisoned of stealing food because of hunger. That is not the right justice for our people. There are these people in the government who stole billions of peso but have never been imprisoned)," said Pacquiao, the youngest among 10 presidential hopefuls at 43 years old.
Senator Cynthia Villar and Pacquiao are the only billionaires in the 24-man Philippine Senate.
Based on the summary of the 2020 Statement of Assets, Liabilities, and Net Worth released by the Senate, Villar has a net worth of PHP3,875,696,435 while Pacquiao has P3,187,092,600.69.
Villar earned her wealth from various businesses, mostly real estate, while Pacquiao's assets are from his fabled boxing career.
After winning his first major title in 1988 as a 19-year-old, he went to win 12 major belts.
He is the only eight-division world champion spanning four decades. (PNA)