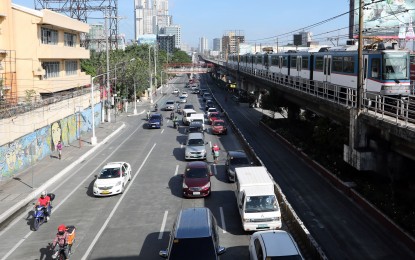 MANILA – Ride-hailing, considered one of the more convenient forms of public transportation services, has been made even more convenient with the approval of multiple transport network companies (TNC) in recent months.
While a big chunk of ride-hailing services is currently operated by Grab Philippines, the Land Transportation Franchising and Regulatory Board (LTFRB) has approved the operation of four other TNCs in the country—Joyride, TokTokgo, OWTO, and ePickMeUp.
Most recently, the LTFRB has granted accreditation to Joyride to provide ride-hailing services or transport network vehicle service (TNVS) to the public through its mobile application in the last week of February.
In a statement in March, Joyride Senior Vice-President for Corporate Affairs Jose Emmanuel Eala announced that Joyride Car has joined the TNVS space in the country.
"We are very excited to have JoyRide Car as one of the newest services available in our super-app. As always, we remain committed to providing value-for-money quality service to the public through the use of a powerful and scalable technology platform," Eala said.
He noted that the company has onboarded more than 20,000 driver-partners with vehicles ranging from motorcycles, cars, vans, and trucks.
Joyride earlier launched its mobile app in 2019, providing motorcycle taxi and delivery services.
To date, Joyride provides multiple other services such as delivery, 'pabili' or shop-for-me, tricycle ride-hailing, and courier services for businesses.
Earlier in February, the LTFRB also granted TNC accreditation to Cloud Panda—the operator of the Toktokgo ride-hailing service.
In an announcement released on April 18, Toktokgo noted that while "a certain ride-hailing giant" may remain the dominant player in the TNVS industry, it promised "lower fares and better services" as an invitation to the riding public.
From March 19 to April 17, Toktokgo held pre-registration activities to invite existing TNVS drivers with a certificate of public convenience (CPC) or provisional authority (PA) to join the service.
Toktokgo was officially launched as a TNVS service to the public on April 18 and is part of the Toktok mobile app established by founders Jonathan So and Carlito Macadangdang in December 2020 during the Covid-19 pandemic.
Similar to Joyride and Grab, Toktok provides other mobility services such as delivery and online shopping services.
Another ride-hailing service already available in the country is OWTO, a TNC that provides ride-sharing services through its mobile app in Metro Manila, CAMANAVA, and selected areas in the provinces of Rizal, Cavite, and Bulacan.
On its website, OWTO highlighted its "dedication" to the security of both drivers and riders, a "fair and balanced" fare system compliant with the directives of the local government, more affordable rides through promotions, and additional discounts to persons with disability (PWD) with PWD IDs.
"OWTO values rider comfort and safety. With today's trend when it comes to a public commuter's daily travel, one can never be too sure when it comes to their experience when riding inside someone else's vehicle. That's why OWTO is here," OWTO said.
ePickMeUp is another mobility service provider available that promises to provide rides, food, or service deliveries that include beauty and health services, and many more through its mobile app.
"ePickMeUp offers more than 60+ major services like rides, deliveries, and on-demand services all in one single app. This is how ePickMeUp is unique," it said.
Both ePickMeUp and OWTO were granted TNC accreditation by the LTFRB in 2020.
The current local leader in the TNVS space is Grab Philippines which provides the same services through its mobile app.
These five TNCs are all currently operating in the country and provide services to the Filipino public.
Following complaints of a lack of TNVS in recent months, the LTFRB has opened 8,000 slots of TNVS on April 18 to increase the maximum number of driver-partners operating for TNCs. (PNA)