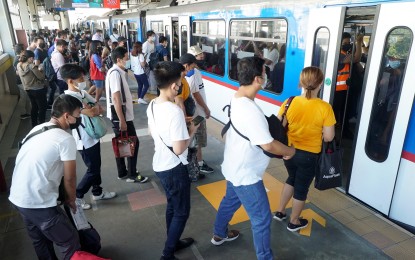 MANILA – The Metro Rail Transit Line 3 (MRT-3) has provided almost 8.5 million free rides during the first month of its "Libreng Sakay (free ride)" program, from March 28 to April 30.
In a Facebook post on Monday, the MRT-3 said a total of 8,472,637 free rides were given during the said period, with the highest single-day ridership reaching a record 335,993 passengers on April 8.
On average, it said 309,013 passengers were served by the MRT-3 on weekdays within this period, a 27.8 percent increase from the weekday average of 241,800 recorded from March 1 to 27.
The program, previously set to end on April 30, has been extended by another month until May 30 and will serve all passengers of the MRT-3 during its regular operating hours from 4:40 a.m. to 10:10 p.m. daily.
"This will allow the MRT-3 and the DOTr (Department of Transportation) to continue providing assistance to the riding public in their commuting needs amid inflation and high fuel prices, as well as promote the improved services and facilities of the rail line after its massive rehabilitation," the MRT-3 said.
The program also helps test the capacity and performance of the newly-rehabilitated facilities and subsystems of the MRT-3 to accommodate up to 350,000 passengers daily.
In December last year, the MRT-3 completed its massive rehabilitation that included the replacement of its entire mainline tracks, upgrading of signaling and communications system, power and overhead catenary system, overhauling of its rolling stock, depot, and stations equipment.
"To date, 51 of its 72 light rail vehicles (LRVs) have been overhauled. Meanwhile, all of MRT-3's 34 elevators and 46 escalators are operational," the MRT-3 said.
Presently, MRT-3 trains are running at a speed of 60 kilometers per hour (kph), higher than the previous 30 kph before rehabilitation, and resulting in a headway or average wait time between trains of 3.5 to 4 minutes from the previous 8.5 to 9 minutes. (PNA)