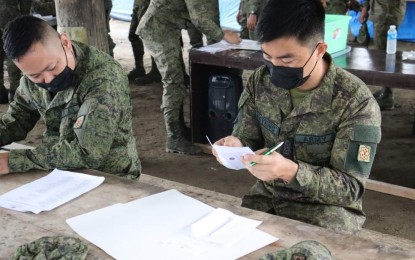 CATBALOGAN CITY, Samar – At least 1,249 soldiers in Eastern Visayas joined the three-day local absentee voting, the Philippine Army said on Tuesday.
From April 27 to 29, soldiers trooped to voting centers inside the headquarters of the Army's 8th Infantry Division (ID) in this city, 802nd Infantry Brigade in Ormoc City, and 78th Infantry Battalion in Borongan City.
"Some registered for absentee voting, but were not able to vote since they were engaged in focused military operations. Majority of our soldiers will still participate in regular voting in their respective local government units," said 8th ID spokesperson Capt. Ryan Layug.
Of the 1,385 personnel who registered for local absentee voting, 1,249 were able to take part, according to Layug.
Qualified to join the activity are soldiers deployed in some areas for election duties on May 9.
Meanwhile, Layug emphasized that soldiers remain non-partisan as they secure election activities in the region.
"We are committed to ensure that all will have an equal opportunity to choose our next leaders," Layug added.
On May 5, hundreds of soldiers will join a ceremonial send-off at police regional office headquarters in Palo, Leyte.
The personnel will represent the over 5,000 soldiers assigned in Eastern Visayas. (PNA)