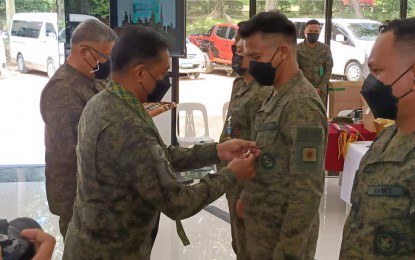 CATBALOGAN CITY, Samar – Philippine Army chief Lt. Gen. Romeo Brawner Jr. honored on Tuesday at least 534 soldiers who joined the search, rescue, and retrieval operations in landslide-hit communities in Baybay City and Abuyog in Leyte.
During his visit here on Tuesday, Brawner awarded medals to team leaders who joined the operations in landslide-hit areas for three weeks.
Also recognized are some K-9 dogs used by the team in the search for bodies under the rubble.
"Our soldiers went out of their way to help victims not only in search and rescue, but in building houses and distribution of relief goods as well," Brawner told reporters during his visit to the Philippine Army's 8th Infantry Division here.
The team retrieved 126 cadavers in Baybay City and 58 in Abuyog.
They also rescued 63 survivors in both areas.

Soldiers also assisted 3,742 evacuees hours after the catastrophic landslides in Baybay City on April 10 and Abuyog town on April 12. (PNA)