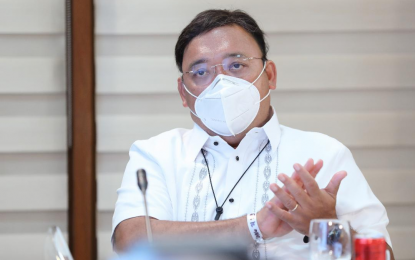 MANILA – UniTeam senatorial aspirant Harry Roque said lawmakers should not use the Senate blue ribbon committee "in aid of vengeance or obstruction" just because they hate an incumbent president.
If elected to the Senate, Roque would like to sit in the blue ribbon committee to address government corruption. He said the committee should not be a platform for any senator's hatchet job.
"If you're an elected lawmaker, do your job. Every investigation should lead to a proposed law. Otherwise, you waste public funds," he said in a statement on Tuesday.
Roque said the public is the ultimate "fiscalizer" because senators appeal to public opinion whenever they investigate a corruption case.
"Don't use an inquiry, similar to the alleged Pharmally scandal, to obstruct government service out of hatred for President Duterte and his administration," he said. "Most importantly, don't use public funds as a tool for political vendetta or in aid of reelection."
Previously, Roque assailed the blue ribbon committee's draft report on the controversial transaction between Pharmally Pharmaceutical Corporation and the government at the height of the pandemic.
He said the report did not introduce any relevant legislation and failed to establish a strong graft case against the individuals allegedly involved in the issue.
"Let us also look into the public money that the Senate spent on several hearings on the Pharmally case," Roque said. "I believe the senators responsible for this investigation should also reimburse the government. After all, unlike other branches or offices, the Senate gets a lump-sum budget."
Before becoming a legislator and presidential spokesman, Roque exposed corruption in several legislative inquiries. These included the fertilizer fund scam in 2005, the swine scam in 2008, and the Philippine Health Insurance Corporation (PhilHealth) corruption in 2019.
Citing the fertilizer scam, Roque said he even testified in court on the asylum petition of a former agriculture undersecretary in the United States.
Roque would like to leverage his track record as a debater, moot court mentor, and participant in several oral arguments before the Supreme Court in a probe conducted by the blue ribbon committee.
"It is an honor for any lawyer like me to argue cases before the Supreme Court and win several of these oral arguments. I would use my legal and legislative knowledge to go after corrupt public and civil servants," he said.
Roque vowed to push for the better delivery of the Universal Health Care for all Filipinos, which he principally sponsored as a former lawmaker in the 17th Congress. He aims to replace the corrupt-ridden PhilHealth with a National Health Service as the implementer of the healthcare law.
He would sponsor bills on "zero hunger" in the country by 2028, the right to potable water within six years, job creation for pandemic-affected workers, and livelihood recovery for typhoon Odette victims.
Moreover, Roque would seek justice reform measures on a three-day court hearing rule and Victims Compensation Fund for murder victims. (PR)