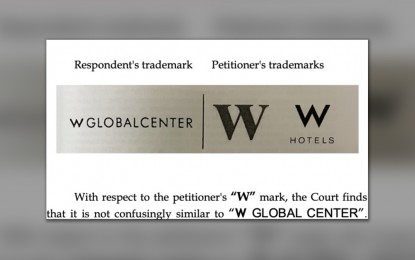 MANILA — The Court of Appeals (CA) has dismissed an international hotel firm's trademark suit involving the use of the letter "W" against a real estate firm.
"To consider otherwise would be to grant the petitioner a monopoly over the letter W," the appellate court said in its 15-page decision by the CA's Fifth Division dated April 29 written by Associate Justice Apolinario Bruselas Jr., which affirmed the decision of the Intellectual Property Office (IPO) on the case.
The suit had been initiated by the Starwood Hotels & Resorts Worldwide, LLC which uses a trademark with a prominent letter "W " on top of the word "Hotels".
The petitioner claims there is a confusing similarity on the trademark of real estate firm, Oceanic Empire Limited, which filed on June 19, 2015 an application for the registration of its trademark "W Global Center".
The CA affirmed the decision last June 22 of the IPO Director General against the hotel operator.
"Nobody has the right to exclusively appropriate any of the letters in the English alphabet with respect to all goods and services," the tribunal said.
The IPO DG ruling had reversed the IPO Bureau of Legal Affairs (IPO-BLA).
"Being a single letter and presented in standard character, the "W" word mark of the petition clearly lacks distinctiveness and said the use of the "W" word mark can hardly be considered as highly identifiable with the products and services of the petitioner alone," the CA said.
Starwood claimed that the "W Global Center" mark it was opposing broadly covers real estate affairs which would encompass its hotel services.
The CA said the petitioner does not even have any hotel in the Philippines that bears the W marks which are being offered to the public.
Its business involves global operation of hotels and resorts, primarily in the luxury and upscale segment of the lodging industry, and caters to clients looking for temporary or short-term accommodation.
In upholding the IPO decision on the case, the CA said findings of fact of administrative agencies, such as the IPO, "are generally accorded great respect, if not finality by the courts, as long as they are supported by substantial evidence, even if such evidence might not be overwhelming".
"By reason of their special knowledge and expertise over matters falling under their jurisdiction, they are in a better position to pass judgment thereon," the tribunal said. (PNA)