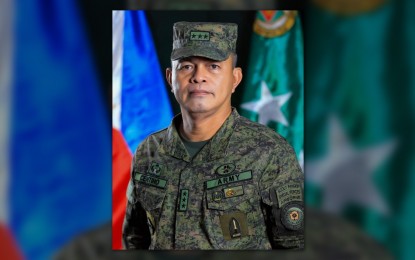 MANILA – Armed Forces of the Philippines (AFP) on Wednesday lauded the Commission on Elections (Comelec) for passing a resolution which states that giving in to the extortion demands or funds to the Communist Party of the Philippines-New People's Army-National Democratic Front (CPP-NPA-NDF) is a violation of the country's electoral laws.
"The AFP expresses the importance of issuing a promulgation which shall inform our election candidates that giving monetary contributions to the CPP-NPA-NDF as permit to campaign and permit to win fees are election offenses and grounds for disqualifications as covered by existing laws," said AFP Chief, Lt. Gen. Andres Centino, during Wednesday's send-off in Camp Crame, Quezon City of military, police and other law enforcement personnel tasked to secure the May 9 elections.
Centino said the AFP had filed a proposed resolution with the poll body last year and he was pleased to note that it was included in the Comelec Memorandum last April 28, 2022.
"The AFP's proposal was included in Paragraph 7 of the Comelec Memorandum dated April 28, 2022 which states, "As per Comelec Resolution No. 22-0179, the payment of Permit-to-Win (PTW) and Permit-to-Campaign (PTC) to the Communist Party of the Philippines-New People's Army-National Democratic Front (CPP-NPA-NDF) and its allied organizations are covered by the law prohibiting vote-buying and vote-selling. Thus, any candidate enhancing his or her candidacy by paying PTW and PTC to the CPP-NPA-NDF and its allied organizations may be prosecuted under Section 261 of the Omnibus Election Code," he added.
Centino said the Comelec resolution strengthened the AFP's stand against the CPP-NPA-NDF collection and extortion efforts during elections.
In attendance during Wednesday's send-off ceremonies were Centino, Philippine National Police (PNP) chief Gen. General Dionardo Carlos; Philippine Coast Guard (PCG) Commandant, Admiral Artemio Abu; Department of Education Secretary Leonor Briones; and Comelec Chairman Saidamen Pangarungan.
"As one of the institutions deputized by the Comelec for this coming election, the AFP is one with our valued partners from other government entities, law enforcement agencies, and the other sectors of our society to ensure a free and orderly exercise of our right to suffrage," Centino said.
He added that the send-off ceremony signified the AFP's resolve to synergize its effort and resources with its fellow public servants to perform its duties and responsibilities this coming national and local elections with "utmost professionalism, credibility and impartiality."
The AFP, PNP, and PCG were directed to provide security to polling places, including election materials and paraphernalia on May 9. They will also provide security to Comelec personnel, its deputies, and other persons performing election-related functions.
They will also make available land, air, and watercraft assets, communication systems, and other equipment to assist the commission.
"I urge all uniformed personnel to remember that the Filipino people trust us to secure the sanctity of their votes, as is their constitutional right to have a say in the future. Let us perform our duties with an utmost dedication that bespeaks our strong hearts for public service. Be assured of the trust and confidence of your leadership in the AFP," Centino said.
Also, the AFP chief said that all Filipino troops have taken the necessary preparations to be ready to perform their mandated missions during their deployment in areas where peace and security efforts are needed.
"As we have emphasized to our stakeholders and constituents during peace covenant signings, the AFP shall remain vigilant against any form of threat that may jeopardize the integrity of our national and local elections," he said.
Centino also said the AFP is prepared to stand its ground and defend the country's citizens' Constitutional right to vote so that the people's will shall prevail
"With that, I urge all uniformed personnel deployed today, particularly our troops from the AFP, to remember that the Filipino people trust us to secure the sanctity of their votes. let us perform our duties with utmost dedication that bespeaks our strong heart for public service and be assured (of) the trust and confidence of your leadership in the AFP, " he added. (PNA)