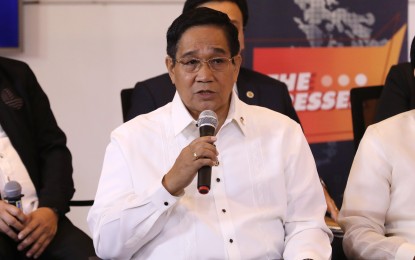 MANILA – The National Task Force to End Local Communist Armed Conflict (NTF-ELCAC) has warned candidates in the national and local elections that they risk disqualification if they collaborate with communist terrorist groups (CTGs) by paying the so-called permit to win (PTW) and permit to campaign (PTC) fees of the Communist Party of the Philippines - New People's Army - National Democratic Front (CPP-NPA-NDF).
The NTF-ELCAC issued the warning after PTW and PTC were declared illegal by the Commission on Elections (Comelec).
In a statement on May 2, Secretary Hermogenes Esperon Jr., National Security Adviser and Vice-Chairperson of the NTF-ELCAC, said: "We salute the Comelec en banc for keeping our elections clean, honest, and peaceful by keeping the CPP-NPA-NDF from interfering in the electoral processes."
"The Comelec has spoken. The PTW and PTC extortion schemes of the CPP-NPA-NDF and their allied front organizations are prohibited, outlawed, and illegal," Esperon said.
He added that "the CPP-NPA-NDF has no place in our electoral processes. These terrorists must not be allowed to interfere in the Filipino people's right to suffrage" or "to capitalize on the elections in order to sabotage the government from within."
He said any candidate in the national and local elections who shall pay the PTW and the PTC to the CPP-NPA-NDF and their front organizations "commit the highest form of betrayal against the Filipino people," "of the public trust," and "of our constitution", and is a ground for disqualification.
He said such payment "tarnishes the memory of all those who have perished in the struggle of the Filipino people against the reign of terror and violence waged by the CPP-NPA-NDF."
Comelec Resolution No. 22-0179 deemed these acts of the CTGs as vote-buying and voter coercion, election offenses that are penalized under Section 261 (a) and (e) of the Omnibus Election Code.
The Comelec said paying the PTW and PTC fees to the CPP-NPA-NDF is an act of vote-buying on the part of the candidate, a ground for the disqualification pursuant to Section 68 (a) and (b) of the Omnibus Election Code.
The payment of PTW or PTC fees to the CPP-NPA-NDF or their front organization also constitutes financing of terrorism and acts providing material support to terrorists, punishable under Section 4 of R.A. No. 10168 or the Anti-Terror Financing Act of 2012 and R.A. 11479, Section 12 of the Anti-Terror Act of 2020.
If such a candidate has been elected, the Comelec resolution said the candidate may be disqualified from holding office.
On the other hand, the CPP-NPA-NDF may be held liable for vote-selling aside from the fact that such acts of extortion are tantamount to terrorism.
While assuring the public of the NTF-ELCAC's "commitment to uphold the rule of law" during the elections, Esperon added that the government believes that the CPP-NPA-NDF and their allied front organizations are "coming to an end."
The CPP-NPA is listed as a terrorist group by the United States, the European Union, the United Kingdom, Australia, Canada, New Zealand, and the Philippines. (PR)