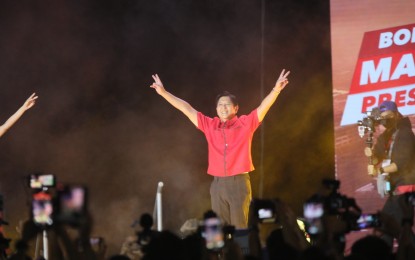 MANILA – The camp of presidential frontrunner Ferdinand "Bongbong" Marcos Jr. on Wednesday warned their supporters to be extra-vigilant against misleading sample ballots with a different assigned number other than his Commission on Elections (Comelec)-designated number 7.
According to Marcos's spokesperson, Atty. Vic Rodriguez, some quarters are trying to confuse the voters in their effort to have their favored candidate obtain the votes that were actually intended for the UniTeam's standard-bearer.
"We denounce in the strongest possible terms the attempt to mislead and deceive the Filipino voting population with the assigning of another number for presidential candidate Ferdinand 'Bongbong' Marcos Jr. in sample ballots and tarpaulins, which are being distributed in certain communities and displayed in public places," he said in a statement.
"The evil intention behind the deception is clearly to steal from Marcos Jr.'s overwhelming lead in the presidential race -- his historic preferential rating shown in all the reputable national surveys confirm that the vast majority of Filipinos prefer him to become the next president of the country," Rodriguez added.
He pointed out that sample ballots are supposed to guide voters to properly vote but their opponents instead used them a means to deceive and confuse the voting public.
"The sample ballot should have been to guide the public. In this instance however, whoever is behind it, intends to make BBM supporters remember the wrong number. Marcos Jr.'s official number on the ballot is #7," Rodriguez said.
At the same time, he called on all BBM-Sara UniTeam supporters to help in disseminating the message that Marcos' number on the ballot is number 7 and nothing else.
"We should spread the word: Marcos Jr. is Number 7 on the ballot. Let us protect the next president by ascertaining and protecting our votes," Rodriguez added. (PNA)