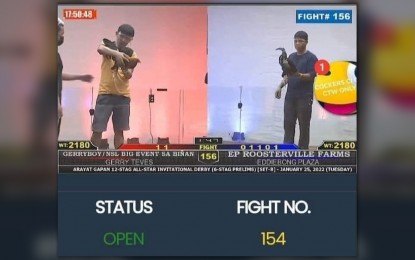 MANILA — Taguig-Pateros Rep. Alan Peter Cayetano on Wednesday said President Rodrigo Duterte's order to stop the e-sabong operations in the country is an affirmation of the Filipino values that keep the country strong.
Cayetano said Duterte's decision to order the immediate termination of e-sabong solidifies his position that the activity is "harmful" to the people and the nation.
Cayetano said what the government earns from these online gambling operations pales in comparison to the losses the people incur in terms of gambling debt, crime, and the breakup of families, among others.
"The Bible says a man reaps what he sows. E-sabong may have been generating some income for the government, but the cost has been too heavy on the lives of the people," he said. "We want to thank the President for hearing the effect on the values of our next generation. Maraming maraming salamat, Mr. President."
Duterte made the announcement to end e-sabong operations in the country in his "Talk to the People" address aired on Tuesday morning.
Duterte cited the impact of e-sabong on persons and families, with reports reaching him that some people stay awake for 24 hours to bet on the games.
Cayetano said online forms of gambling make betting games available to everyone 24/7, making it necessary to restrict access to it, particularly to the youth.
He said the number of licensed operators has since grown to at least seven--Belvedere Vista Corp., Lucky 8 Star Quest Inc., Visayas Cockers Club Inc., Jade Entertainment and Gaming Technologies Inc., Newin Cockers Alliance Gaming Corp., Philippine Cockfighting International Inc., and Golden Buzzer Inc.
Cayetano has consistently called for the complete banning of e-sabong, saying it was inconsistent with the values of the Filipino people who value faith and family more than anything else.
He noted the rising number of crimes related to e-sabong, including the disappearance of 34 sabungeros early this year with some police officers allegedly involved.
He also cited the cases of some police officers resorting to robbery, and of a woman who sold her baby to pay off their gambling debt.
Cayetano said this is the reason he has been firm in his stand that e-sabong and all other forms of internet gambling must be banned altogether. (PNA)