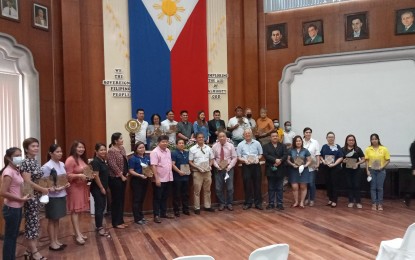 DUMAGUETE CITY – The local government unit (LGU) here, in collaboration with the Department of Tourism, on Wednesday cited a number of accommodation establishments and transport services for their invaluable help during the height of the coronavirus disease 2019 (Covid-19) lockdown.
Recipients of a plaque of appreciation each include 20 hotels, inns, and similar accommodation establishments; six transport services; and three outstanding individuals.
City Tourism Officer Jacqueline Veloso Antonio said their efforts were recognized because they were the first to respond to the call of the local government "when their services were needed and when all others in the same sectors had already shut down due to quarantine restrictions."
Recognized from the accommodation establishments were C&L Bayview Inn; C&L Suites Inn; Grand Pension House; One Bethany Place; Southview Hotel; Bethel Guest House; Bricks Hotel; Florentina Homes; RM Guest House; Dumaguete Royal Suites Inn; Rovira Suites; Hotel Essencia; La Casona Hotel; Crisfil's Lodge; Optimum Pension House; Aberrise Pension Hotel; Dino Residences; Sulit Budget Hotel; Casa Rubin; and Moriah Pension Inn.
They were among the first to accommodate locally stranded individuals and overseas Filipino workers starting May 2020 onward, while the others also accepted authorized persons outside of residence (APORs), and returning overseas Filipinos (ROFs), Antonio said.
Meanwhile, those cited from the transport sector were Quantum Dlux Tour Services; Vallacar Transit, Inc; Maayo Shipping, Inc.; Philippine Airlines; Royhle Air Way Charter, Inc.; and TS Tours Services.
They facilitated the transport of foreign visitors to ports of exit; the crossing of buses and vans from here to Cebu and other points of exit; arranged and provided sweeper flights for stranded foreigners; and provided transport services for OFWs, ROFs, APORs, and returning residents, among others, Antonio said.
Three individuals were also given due recognition -- Miben Lordito Deguit of C&L Suites Inn and C&L Bayview; Amy Miro of One Bethany Place; and Maria Lalaine Ponla of Rovira Suites Inn-- for closely coordinating with the City Tourism Office and the City Health Office, representing the partner hotels. (PNA)