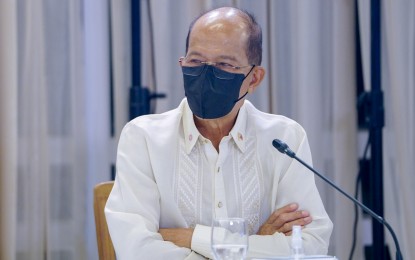 MANILA – Department of National Defense (DND) Secretary Delfin Lorenzana on Thursday said South Korean shipbuilder, Hyundai Heavy Industries (HHI), has been selected by the Philippine Navy's (PN) technical working group (TWG) for its offshore patrol vessel (OPV) project which will consist of six ships.
"At kamakailan lang napili nila (PN TWG) yung Hyundai ng (South) Korea. Sila rin gumawa ng ating dalawang frigate at gumagawa sila ng dalawang corvette. Ang nakita ng Navy na isang advantage dyan ay iisang system yung mga barko na yan, saka kung kailangan natin ng maintenance o whatever, madaling pumunta dito yung mga South Koreans (And recently, the [PN TWG] has selected Hyundai of [South] Korea. They are the ones who built our [Jose Rizal-class missile frigates], they are also the ones building our two [missile-armed corvettes]. The Navy sees that having [HHI] build all these ships is the similarities in their systems, and if we need to do maintenance or repairs, the South Koreans could easily come)," he said when asked for updates on the OPV project during an interview with government media.
He is also hopeful that the contract will be finalized and signed this month.
"I hope this month magkakaroon ng (there will be a contract (signing) after that or by June. Tignan natin kung maihabol natin bago matapos termino ni Presidente (let us see on whether we can do it before the President ends his term)," Lorenzana added.
The DND earlier said it is now looking for new proponents for the PN's procurement of six OPVs due to pricing issues with Australian shipbuilder Austal.
"Pending our approval of the contract for the purchase, they (Austal) said the cost has increased -- materials, labor and everything. They asked for additional payment. I think our budget is PHP30 billion, they want PHP12 billion more for the six OPVs or they said we can reduce the number from six to five," Lorenzana said.
He added that he can no longer ask the Department of Budget and Management (DBM) for additional funding.
However, he also said reducing the number of OPVs to be acquired is not an option for the PN.
"Ang gusto nila (Navy) anim talaga dahil talagang (yun) kailangan natin, so ang ginawa nila ay nakikipag-usap sila ngayon sa mga ibang proponents (na) kayang tugunan without any increase in price or reducing the number of ships (What they really want is six because that is the number they need, so they are now talking with other proponents capable of giving that number without increasing the price or reducing the number of ships)," the DND chief earlier said.
Lorenzana said that shipbuilders from France, Sweden, South Korea, Japan, Turkey and India have expressed interest in the PN's OPV project.
Initially, Australian shipbuilder Austal was believed to be the frontrunner in the OPV project.
Lorenzana, in an earlier statement, said tapping Austal for the project will be greatly advantageous to the country as it will provide jobs to Filipinos as the company has an existing shipyard in Balamban, Cebu which it had acquired from Aboitiz.
This is aside from the transfer of technology which will also be beneficial to the Philippines in the long run, he added. The OPV project is expected to replace the World War II surface assets decommissioned by the Navy.
The DBM already released the funds for the project last year. (PNA)