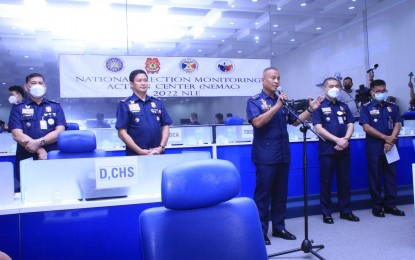 MANILA – Lt. Gen. Vicente Danao, will act as officer in charge (OIC) of the Philippine National Police (PNP), to replace PNP chief Gen. Dionardo Carlos, who is stepping down from his post on May 8 after reaching the mandatory retirement age of 56, Interior and Local Government Secretary Eduardo Año confirmed Thursday.
"The President (Rodrigo R. Duterte) has just designated Lt. Gen. Vicente Danao Jr. as Officer In Charge of the Philippine National Police to replace Gen. Dionardo Carlos who is retiring on 08 May 2022," Año said in a message sent to the Philippine News Agency (PNA).
Under the law, Año explained that a permanent PNP chief cannot be appointed since the Constitution states that the President "cannot anymore issue permanent appointment for executive positions except temporary appointment if there will be an issue on public safety or it will endanger public safety or it will prejudice public service'' 60 days before a presidential election.
Año said that Danao is very capable, workaholic, and also a man of integrity that can lead the PNP organization and continue the reforms that are being pursued.
"I believe that Vic Danao can lead the PNP organization and continue the reforms that are being pursued, and I also believe that even though OIC ang kanyang designation (his designation is just OIC), now that we are in the midst of our preparations for the national and local elections, he can do the job and he has the respect and the thrust of the entire PNP organization. So kahit nagkaroon tayo ng changes ng leadership (despite the change in leadership), or change of leadership a day before the election... He is the head of the task force on NLE (national and local elections) and at the same time, he is also the chief of the national task force Covid (coronavirus disease 2019) shield or the PNP national task force against Covid. So let us welcome him and let us support him to do his job," Año told reporters in a phone interview.
Año ordered Danao to ensure that the election will be peaceful, orderly, and honest, and want him to lead the PNP to do everything and do their best.
Danao, who is concurrent Commander of PNP Security Task Force for National and Local Elections 2022, the PNP No. 4 man as chief of the PNP Directorial Staff, has recently taken over as Deputy Chief of Operations (DCO) after Lt. Gen. Ferdinand Divina who reached his mandatory retirement age of 56 on May 2.
"As of now, he (Danao) is the DCO and after the retirement of Gen. Carlos, he will be officer in charge. Now, he (is the) officer in charge, (he can) designate another acting DCO or both. Titingnan namin kung ano yung magandang set up dyan para magawa yung dalawang trabaho nya. Mas advisable talaga na bago mag-weekend ay mag-assume na si Gen. Danao para smooth yung ating preparation ng eleksyon sa May 9 (We will see what will be a better setup to ensure that the two jobs previously assigned to him will run smoothly. It is advisable that Gen. Danao assumes his new post as PNP OIC before weekend so we can have smooth preparation for the May 9 elections)," Año stressed.
Brig. Gen. Roderick Augustus Alba, PNP Public Information Office chief, said the PNP is confident that Danao will be able to manage the organization given his track record and level of competence.
"This is crucial time especially that we are ushering to a very important democratic exercise in the country. Ano man pong nasimulan ni PNP Chief General Dionardo Carlos ay ipagpapatuloy ni Gen. Danao (What PNP Chief General Dionardo Carlos has started will be continued by Gen. Danao). He will take over as the officer-in-charge of the PNP following the retirement from service of Gen. Carlos," Alba said in a statement.
"Gen. Danao will perform this new task in an OIC capacity in the meantime because of the prohibition in the movement of government positions while the election period is in effect," he added.
Carlos, the 27th chief PNP, will have the retirement honors on Friday to be held at PNP Multi-Purpose Center, Camp Crame, Quezon City.
"Upon my retirement, I shall pass on the baton of leadership of the Philippine National Police to Police Lieutenant General Vicente D. Danao Jr., the Deputy Chief for Operations, a fine officer whom I look up to with great respect and admiration," Carlos said in a statement.
"My retirement will not in any way hamper the current preoccupation of the PNP to guarantee secure, accurate, free and fair elections on May 9th. The dynamics of the police service ensures seamless continuity of command to carry on with unfinished tasks and ongoing programs," he added.
Meanwhile, Malacañang also confirmed Danao's designation in a press statement on Thursday.
Acting Presidential Spokesperson Martin Andanar expressed confidence that Danao will continue efforts to transform the PNP into "a more dynamic and more professional organization performing its mandate of serving and protecting our people." (With reports from Azer Parrocha/PNA)