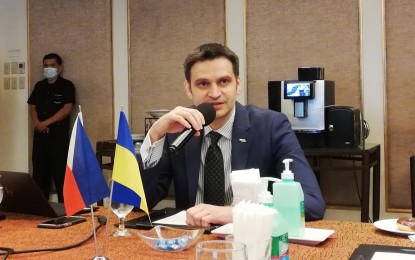 MANILA – Ukraine is pushing the Association of Southeast Asian Nations (Asean) to suspend dialogue relations with Russia as the war that already killed more than 3,000 civilians in the country continues.
"We believe it's important to isolate Russia internationally. Russia should not be part of Asean strategic partnership anymore," Ukrainian Ambassador to the Philippines Olexander Nechytaylo said in an interview in Makati City Thursday.
"It has to be suspended, and it also has to be (the) message from the Asean leaders, as long as this war continues, Russia should not be part of APEC (Asia-Pacific Economic Cooperation), it should not be part of Asean, it should not be part of any other international organizations because the action in Ukraine shows that they blatantly disregard the international law," he added.
Nechytaylo said the bloc "took note" of their request.
The envoy said he would also communicate the position to Foreign Affairs Secretary Teodoro Locsin Jr. who is set to represent the Philippines in the upcoming United States-Asean Special Summit in Washington D.C.
Asean's initial reaction when Russia launched an offensive against Ukraine on February 24 had been described as perfunctory for calling for maximum restraint without condemning the bombings themselves.
Nechytaylo stressed that Russia's actions in Ukraine clearly undermine the Treaty of Amity and Cooperation in Southeast Asia (TAC), which Russia acceded to in 2004.
"[N]on-interference, peaceful coexistence, that's exactly opposite to what Russia is doing in Ukraine. They've been always interfering in our internal affairs, and now they invaded us openly on a full scale," he said.
Russia was elevated as Asean's full dialogue partner in July 1996 and had since been participating in a series of consultative meetings to discuss and exchange views on political and security issues.
These include ministerial meetings, senior officials' meetings as well as the Asean Regional Forum (ARF), the Post Ministerial Conferences (PMCs) Plus One, Asean Defence Ministers' Meeting Plus and the East Asia Summit. (PNA)