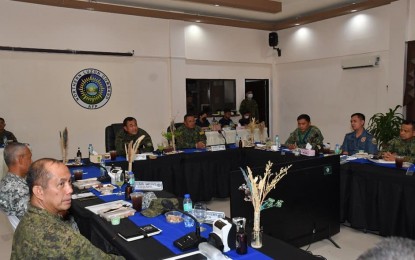 CAMP AQUINO, Tarlac – The Northern Luzon Command (Nolcom) is all set for the May 9 elections with the deployment of its forces to strategic locations in Central and Northern Luzon to help ensure the safety, security, and integrity of the voting process.
Nolcom Commander Lt. Gen. Ernesto Torres Jr. said on Friday that a total of 3,002 soldiers with 91 officers, 2,280 personnel, and 631 reserve troops are already deployed to polling places to help in thwarting any adverse election-related incidents.
"Nolcom forces all over Northern and Central Luzon have been deployed in strategic locations within their areas of operation, as deputized by the Commission on Elections (Comelec) and in coordination with the Philippine National Police (PNP), and Philippine Coast Guard (PCG) and other concerned agencies, to ensure the security of polling places and safety of voters," Torres said in a statement.
He said that Nolcom personnel from the Joint Task Forces (JTF) "Kaugnay" of the 7th Infantry Division (7ID), JTF "Tala" from the 5th Infantry Division (5ID), JTF "Karagatan" of the Naval Forces-Northern Luzon (NFNL), and Tactical Operations Wing Northern Luzon (TOWNOL) were also augmented to compose the Joint Peace Security Coordinating Committee (JPSCC), together with their partner agencies, to monitor all election-related activities and updates at the regional, provincial and municipal levels.
Meanwhile, Torres urged the security forces to always be proactive in addressing peace and security concerns in their joint operational area.
"Let us continue to work together to sustain the peace and stability in the Central and Northern Luzon," he said. (PNA)