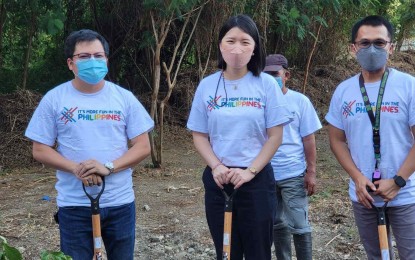 MANILA – The Nayong Pilipino Foundation (NPF) has partnered with the Department of Health (DOH) in a tree planting activity on Friday to bring mental health benefits to all.
The noise, pollution, overcrowding, and the series of lockdowns appear to be taking a toll on our mental health. Thus, continuing tree planting activities will help our communities to stay afloat during and after the coronavirus disease 2019 (Covid-19) crisis.
Through the NPF's project "Sambayanihan", a series of activation activities for the physical development of the 9.5-hectare property in the Entertainment City in Parañaque City, the agency spotlights the need for community involvement.
Since its launch in 2021, NFP has partnered with both private and public institutions in multi-sectoral activities to establish the future NPF Cultural Park and Creative Hub, which is one of the last remaining green spaces in the middle of Metro Manila.
"When we launched our tree planting drive last year, our purpose was to help improve the mental health of the Covid-19 patients and the front-liners stationed in the quarantine facility inside this property," said NFP Deputy Executive Director for Marketing and Operations, Dr. Jovertlee Pudan.
"Additionally, people who come here to get inoculated could appreciate nature and what it means for our well-being. Trees and green spaces have helped improve both our physical and mental health throughout the pandemic and will continue to do so in the new normal" he added.
"Isa sa mga objectives ng Universal Healthcare is to make sure na bawat Filipino, nababawasan yung risk na magkasakit and part po nito ay pagkakaroon ng heatlhy environment (One of the objectives of the Universal Healthcare is to make every Filipino lower the risk of illness and this is part of having a healthy environment). The project of the Nayong Pilipino Foundation is aligned with what DOH wants to do, which is to encourage people to go out and do physical activities and protect their mental health. They can only do that if we have open spaces," said DOH Health Promotion Bureau Director Dr. Beverly Lorraine C. Ho.
As an attached agency of the Department of Tourism (DOT), the NPF continues to serve its stakeholders by fulfilling its mandate of providing Heritage Preservation even amid the pandemic.
The agency hopes to build the future Nayong Pilipino Foundation Cultural Park and Creative Hub to provide the public with the much-needed open, green, and creative space, thereby contributing to the restoration of our cities while promoting our rich culture and heritage. (PR)