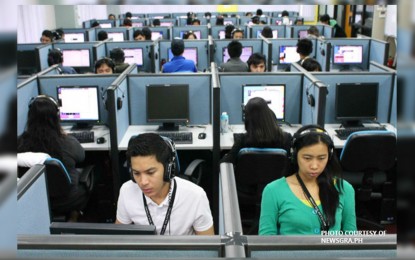 MANILA – The Philippine Economic Zone Authority (PEZA) has received reports that registered information technology and business process outsourcing (IT-BPO) companies are losing their employees to "underground" IT-BPO entities operating in a work-from-home (WFH) set-up.
In an interview, PEZA director general Charito Plaza said these underground operations of entities servicing the IT-BPO sector provide higher salary and offer WFH arrangement, which is favorable especially to the voice segment of the industry.
"When I had a dialogue with Cebu IT-BPOs, I found out there are now virtual or IT-related businesses who we call as underground. Underground because they are not registered with (the) government They're offering high (pay) around PHP30,000 to PHP40,000, but there is no security of tenure," Plaza told reporters.
She added many workers in the IT-BPO industry have resigned from their jobs following a directive from the government to return to their respective workplaces.
"'Yong mga workers din, matapang silang magsalita na we will resign from work kasi meron na itong underground eh, hiring them for a big fee (The workers are unfazed to say 'we will resign from work' because of these underground IT-BPOs hiring them for a big fee)," the PEZA chief said.
The PEZA, registered IT-BPO enterprises, and workers were denied by the Fiscal Incentives Review Board (FIRB) from their request to at least extend the WFH arrangement until September 2022, when the proclamation of state of calamity due to coronavirus disease 2019 (Covid-19) pandemic is set to expire.
Since April 1, companies registered operating in economic zones were ordered to scrap the WFH set-up and go back to their offices.
Plaza said with the growth of underground operation in the IT-BPO sector, the government will lose more revenues from taxes as these unregistered firms do not pay their obligations to the government and do not give security of tenure for workers.
According to PEZA, it has registered a total of 1,608 IT locators and 297 IT parks.
These registered business enterprises created over 1.01 million jobs and invested PHP330.4 billion at the end-2021. (PNA)