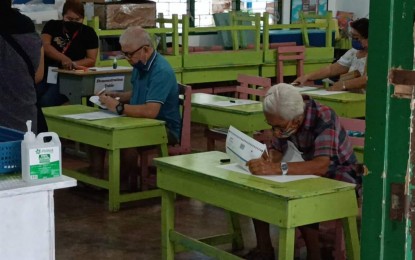 TACLOBAN CITY – All 6,271 polling precincts in Eastern Visayas have opened peacefully on Monday morning as over 3 million voters trooped to cast their votes.
Brig. Gen. Bernard Banac, Philippine National Police Eastern Visayas regional director, said there were no untoward incidents reported in the region's 4,390 villages.
"We will make sure that the election will end peacefully as I directed all deployed personnel to remain vigilant and alert. Our police personnel are there 24/7 to make sure that every polling precinct is secured," Banac said.
The PNP noted the peaceful opening of precincts despite reported shooting incidents in San Isidro and Tabango towns in Leyte and attack on government forces in Las Navas, Northern Samar.
Meanwhile, the PNP said they will continue enforcing the liquor ban until midnight on Monday.
Under Commission on Elections (Comelec) Resolution No. 10746, it will be unlawful for any person, including owners and managers of hotels, resorts, restaurants, and other establishments of the same nature to sell, furnish, offer, buy, serve or take intoxicating liquor anywhere in the Philippines.
Following the said resolution, PNP has coordinated with business establishments and the like and is strictly implementing the prohibition of selling, furnishing, offering, buying, and serving or taking intoxicating liquor on the aforementioned dates.
Banac directed all chiefs of field units to be vigilant and strictly implement the liquor ban as they are the ones on the ground.
"We all want peaceful and safe conduct of the election, thus, I want everybody's cooperation. Let us be responsible enough," Banac said.
As of Sunday night, the police regional office has recorded three violations of the liquor ban. (PNA)