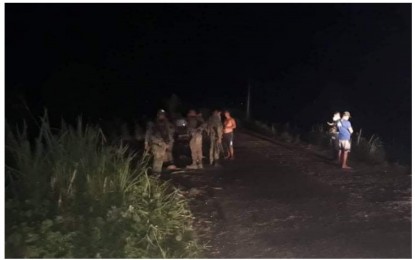 BACOLOD CITY – Top officials of Himamaylan City, Negros Occidental have denounced the violence that claimed the life of a public school teacher on the eve of the May 9 national and local elections.
Mercy Nequia-Miguel, 49, of Barangay Caradio-an, assigned at Himamaylan City National High School and was set to serve in Monday's polls, was shot to death by unidentified assailants on her way home with her husband at around 8:30 p.m.
Mayor Raymund Tongson said the city government condemns the death of the teacher and ordered the police to "exhaust all efforts to arrest the killers".
"The motive is yet to be established. Let us wait for complete police investigation report," he said in a statement posted on Facebook Sunday evening.
Tongson expressed his condolences and sent prayers to the Nequia-Miguel family.
"I am one with Mayor Raymund Tongson in condemning this senseless loss of life and in seeking justice. I join all Himamaylanons in prayer for peaceful elections. May God be with us," Vice Mayor Justin Gatuslao said in a separate statement.
Lt. Col. Reynante Jomocan, city police chief, said on Monday they could not yet establish the motive since the investigation is ongoing.
Based on the initial police report, the teacher and her husband were on board a motorcycle going home from the public plaza, and upon reaching Crossing Calasa, they noticed that huge stones were blocking their way.
When they attempted to remove the stones, shots were fired by unidentified persons from the roadside, hitting Nequia-Miguel on the abdomen.
She was declared dead by the attending physician at the Valeriano M. Gatuslao Memorial Hospital, the police said. Her husband was left unharmed.
Investigators recovered bullet shells from what is believed to be a caliber 9mm pistol.
Jomocan said they still could not consider the shooting incident as election-related as the family denied any involvement in politics although the teacher's husband has a relative running for a post in the city.
Meanwhile, the Department of Education on Monday strongly condemned the shooting and denounced any acts of violence and injustice towards teachers, who have dedicated their lives to the Filipino children and serving the country in this year's election.
Secretary Leonor Briones has instructed the Office of the Undersecretary for Finance to provide financial and other necessary assistance to the said teacher and her family. (PNA)