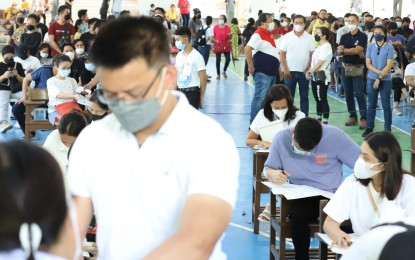 MANILA – The National Citizens' Movement for Free Elections (Namfrel) said Monday's national and local elections have been smooth and peaceful overall as of 1 p.m., or six hours before polling precincts close.
In a statement, the election watchdog announced that based on the observation of volunteers, most polling places opened on time and no significant delay was recorded.
Namfrel said the electoral boards, as well as the vote-counting machines (VCMs) and election paraphernalia, were complete in most polling places.
The high turnout though seemed to have overwhelmed several voting centers and coronavirus disease 2019 (Covid-19) protocols were not properly observed.
Some volunteers also reported non-adherence to Commission on Elections (Comelec) procedures, citing a situation in Pototan, Iloilo where there was no uniformity in the sealing of the ballot box.
One was sealed with packing tape while another with a cable tie.
Some machines, Namfrel said, did not work as expected but were fixed before the start of voting.

In Quezon City, a Namfrel volunteer reported that a VCM was not delivered until 6:30 a.m., or 30 minutes past opening time, while in San Juan City, some voters reported they could not find their clustered precinct number.
Paper jams, rejection of ballots, or sudden shutdown were the most common VCM issues.
The poll watchdog added that there were people seen wearing campaign shirts in voting centers.
Namfrel commended the Comelec for the establishment of Emergency Accessible Polling Places and Isolation Polling Places for voters with suspected Covid-19 symptoms or are not feeling well. (PNA)