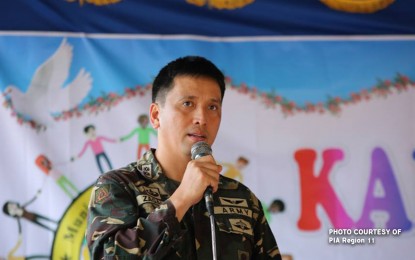 MANILA – The Armed Forces of the Philippines (AFP) on Monday said the national and local elections were generally peaceful as Filipinos were able to cast their ballots despite some untoward incidents.
"Although there are 15 election-related violent incidents, we were able to respond immediately, so we are able to stabilize the situation in those areas na medyo (quite) critical by shifting forces, and because of that, the election, natuloy (proceeded). So in all areas, natuloy yung election (the election proceeded). So our assessment as of now is (that) the election is successful through our support to the Comelec (Commission on Elections) and the PNP (Philippine National Police)," AFP spokesperson Army Col. Ramon Zagala said in an interview with reporters Monday night.
Most of these election-related incidents took place in Mindanao, Zagala said, but the presence of government troops in critical areas provided the people with the confidence to vote and deterred groups planning to conduct atrocities.
"Majority of the areas where we were deployed, it's peaceful and we are able to secure so that the people can vote," he said.
The Philippine Army (PA) also announced it has deployed additional troops to assist the PNP in securing polling areas in Metro Manila.
Two platoons were deployed as augmentation forces for the AFP's Joint Task Force-National Capital Region (JTF-NCR).
It can be recalled that the PA deployed a composite company to augment JTF-NCR troops at the start of the election season in January.
The composite company was deployed in parts of Caloocan, Malabon, Navotas, Valenzuela, and Quezon City.
Additionally, the PA allocated 51 organic vehicles and four air assets to assist the Comelec with its transportation requirements.
PA chief Lt. Gen. Romeo S. Brawner Jr. earlier placed the Army under red alert status to ensure that all units are complete and ready to be deployed on orders to address possible threats that may arise during the election period.
Isolated incidents
PNP officer-in-charge Lt. Gen. Vicente Danao Jr. said some elections-related incidents were isolated.
"The entire 13-hour political exercise has been relatively peaceful in fair comparison with the national elections we held in 2019 and 2016, and due consideration of some isolated incidents of violence and disorder that marred the otherwise uneventful conduct of today's national and local polls," Danao said in press conference at Camp Crame on Monday night.
Danao said as of 6 p.m., there were 16 confirmed election-related incidents, much lower compared to the 133 and 60 incidents recorded in the 2016 and 2019 elections, respectively.
He said the PNP fielded some 749 policemen as alternate members of the electoral board nationwide.
"The PNP remained unyielded in our mission as a law enforcement arm of Comelec to guarantee the success of this national undertaking 215,000 security personnel in some areas where regular members of the electoral board the PNP field 749 police trained personnel as alternate members of electoral board 213 voting centers," he said.
Danao said policemen will continue to secure polling centers until the last man from the Department of Education and Commission on Election are already out.
Brig. Gen. Allan Nobleza, PNP Deputy Director for Operations said despite the isolated incidents, including those in Lanao del Sur and Maguindanao, elections remain generally peaceful.
"If we are going to compare this data during the last elections, this number we have now is still lower as compared to previous elections. And the PNP could say that the election that is happening now is generally peaceful," Nobleza said in a press conference.
Taking action
Comelec chairperson Saidamen Pangarungan said all recorded incidents will be forwarded to the commission en banc.
"We might take action in all of these election-related cases," he added, adding failure of elections may only be in certain voting centers, not in entire towns.
Pangarungan said the reported killing incidents in Malabang City, Lanao del Sur involving supporters of mayoral candidates are under validation.
He also said the elections in Pilar, Abra province went well even if it was under Comelec control.
Namfrel concerns
Meanwhile, the National Citizens' Movement for Free Elections (Namfrel) will investigate reports from its volunteers of alleged violence and intimidation.
In its observation update culled at the Bantay ng Bayan Operations Center in Mandaluyong City , the poll watchdog cited the strafing incident in Buluan, Maguindanao; a commotion outside Vilo Elementary School, the largest voting area in Cotabato City; and apprehension of five trucks reportedly carrying money, guns, and sample ballots in San Luis, Aurora. (With a report from Wilnard Bacelonia/PNA)