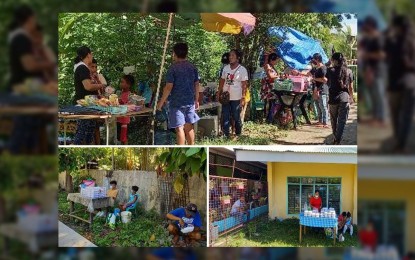 AGUILAR, Pangasinan – Taking advantage of the volume of people during the local and national elections, some people made a living while waiting for their turn to cast their votes on Monday.
Mila dela Cruz, 43, married, said she put up a snacks stand along the pathway leading to the Buer-Bayaoas Elementary School entrance to sell to people going in and out of the school to vote.
It was her first time to do this kind of business so she could still earn while doing her part in choosing the country's next leaders.
Dela Cruz set up a stall at about 8:30 a.m., which she admitted was already late compared to her competitors.
"Sinubukan ko lang po para may kita pa rin kami ngayong araw (I just tried this business so we could still earn today)," she told the Philippine News Agency (PNA).
Dela Cruz and her husband sell bread to stores around the municipality daily using their tricycle.
She said they did not sell bread to these stores on Monday so that they could vote.
"Mas malakas pa rin ang kita sa pagbebenta ng tinapay kumpara dito kasi maraming kompetisyon dito. Pero tyagaan lang para kumita ngayong araw (Selling bread brings in more money compared to selling snacks but we need to persevere to earn today)," she added.
Carol Bollo, 43, married, said she also decided to maximize her time at the polling precinct area by engaging in a business.
Bollo sold cold drinks, halo-halo (a shaved-ice food made out of sweetened banana, sweet potato, gelatin, and milk, among others), and several others.
"Buti dito, kikita ka pa kasi maraming tao na magugutom at mauuhaw habang nakapila para bumoto (At least we make money here selling to people who will get hungry and thirsty while queuing up to vote)," she added.
Bollo sells dried fish in a stall she rents in a nearby market, which was opened during the pandemic when movement was restricted.
She, however, said since the movement restrictions have been eased, sales have declined.
Bollo said she needs to take advantage of every opportunity to earn because her husband, a driver of a bus company serving the Tuguegarao-Manila and vice versa route, lost his job during the pandemic.
"Dapat talaga ang mga nanay madiskarte lagi (Mothers should always be resourceful)," she added.
A school authority said she allowed the vendors to set up stalls inside the school premises to help both the business owners and the voters.
"Some people arrived in the school as early as 6 a.m. and some of them haven't had their breakfast so (the) presence of the food sellers (were) helpful so that the people need not walk farther to have their food," Mangatarem 1 Central School principal Racelyn Limos said. (PNA)