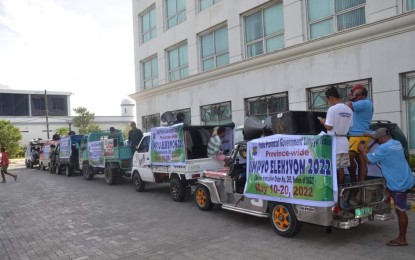 ILOILO CITY – The provincial government is calling on political candidates, parties, and concerned organizations to join the "Limpyo (clean) Eleksyon 2022," a 10-day cleanup drive to collect poll campaign materials, which was officially launched on Tuesday.
Iloilo Provincial Environment and Natural Resources Officer Mitzi Peñaflorida, in an interview, said the cleanup until May 20, 2022 is anchored on Executive Order 265 issued by Governor Arthur Defensor Jr. on May 7.
It is the first time the provincial government has embarked on this activity although there were politicians and groups during the previous elections that conducted a cleanup drive, Peñaflorida said.
"We are knocking on the doors of our politicians, party-lists to join us and be responsible in gathering their own waste materials," she added.
The provincial government has deployed teams to five districts of Iloilo, and with the help of the municipal environment and natural resources offices, will be removing all campaign materials along the highway and even in municipalities not located along the national roads.
"Our team will weigh the collected campaign materials so we would know the volume and sort them by item," she said, adding that this gives them a baseline of the extent of garbage generated during the election period.
Once sorted out, those that can be recycled are eyed to be turned into an eco-bag and will be promoted through the province's "Balik Alat" program that was launched last year, which advocated for the use of reusable and eco-friendly bags.
"We will give them back to the community to show that we can still make something out of them while at the same time we are also helping the environment," she said.
Those that could no longer be recycled will be processed using alternative technologies available in municipalities or will be shred while residuals will be dumped in the sanitary landfill of Passi City.
The garbage, if not collected, is feared to break into microfiber, will go with the rain to the waterways, or generate leachate that is toxic to the environment, the environmental officer added. (PNA)