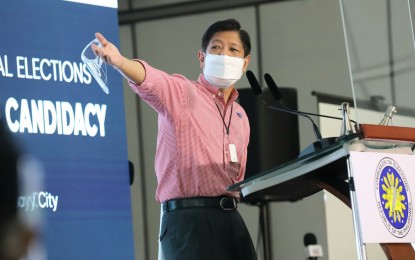 MANILA – The Commission on Elections (Comelec) has dismissed the motions for reconsideration on two sets of petitions seeking to disqualify presidential race frontrunner Ferdinand "Bongbong" Marcos Jr.
On Tuesday, the Comelec en banc released its ruling that stemmed from petitioners who wanted Marcos dropped from the elections because of his alleged failure to file an income tax returns from 1982 to 1985 while he was a public official in Ilocos Norte.
The petition of Fr. Christian Buenafe, Fides Lim, Ma. Edeliza Hernandez, Delia Lagman Sevilla, Roland Vibal, and Josephine Lascano was junked by the Second Division due to lack of merit.
The resolution stated that "Ferdinand Romualdez Marcos Jr. (respondent)'s representations which are being questioned by the petitioners -- that respondent is eligible for the position of President and that he has not been meted the penalty of perpetual disqualification from the public office -- are not false."
The consolidated disqualification petitions filed by Bonifacio Ilagan, et al; Akbayan party-list et al; Abubakar Mangelen, chair of the Partido Federal ng Pilipinas; and the Campaign Against the Return of the Marcoses and Martial Law, were junked by the First Division "due to lack of substantial grounds to compel the Comelec en banc to rule in favor" of the disqualification case.
Two more disqualification appeals against Marcos remain pending and the decisions will be out anytime, the Comelec said.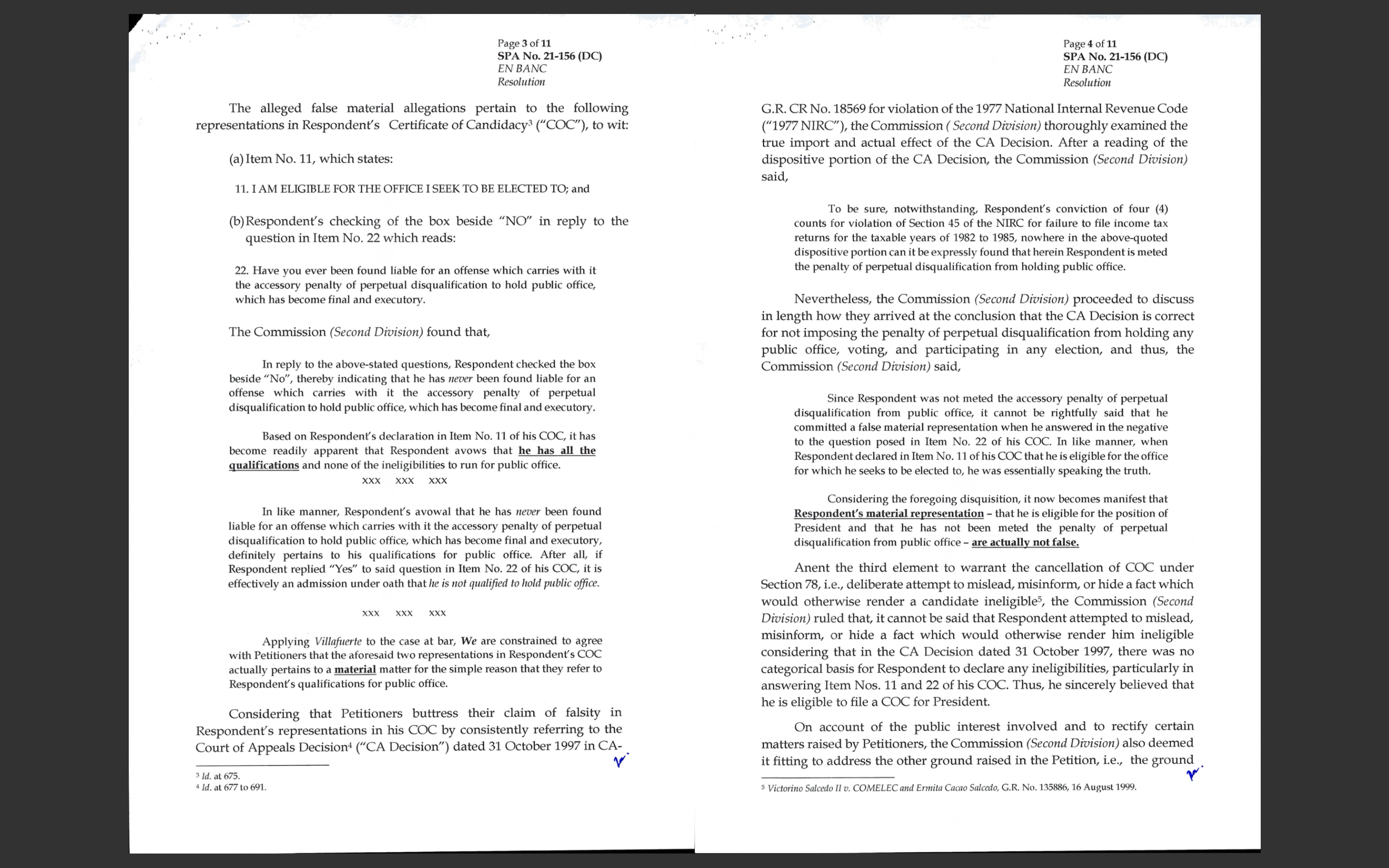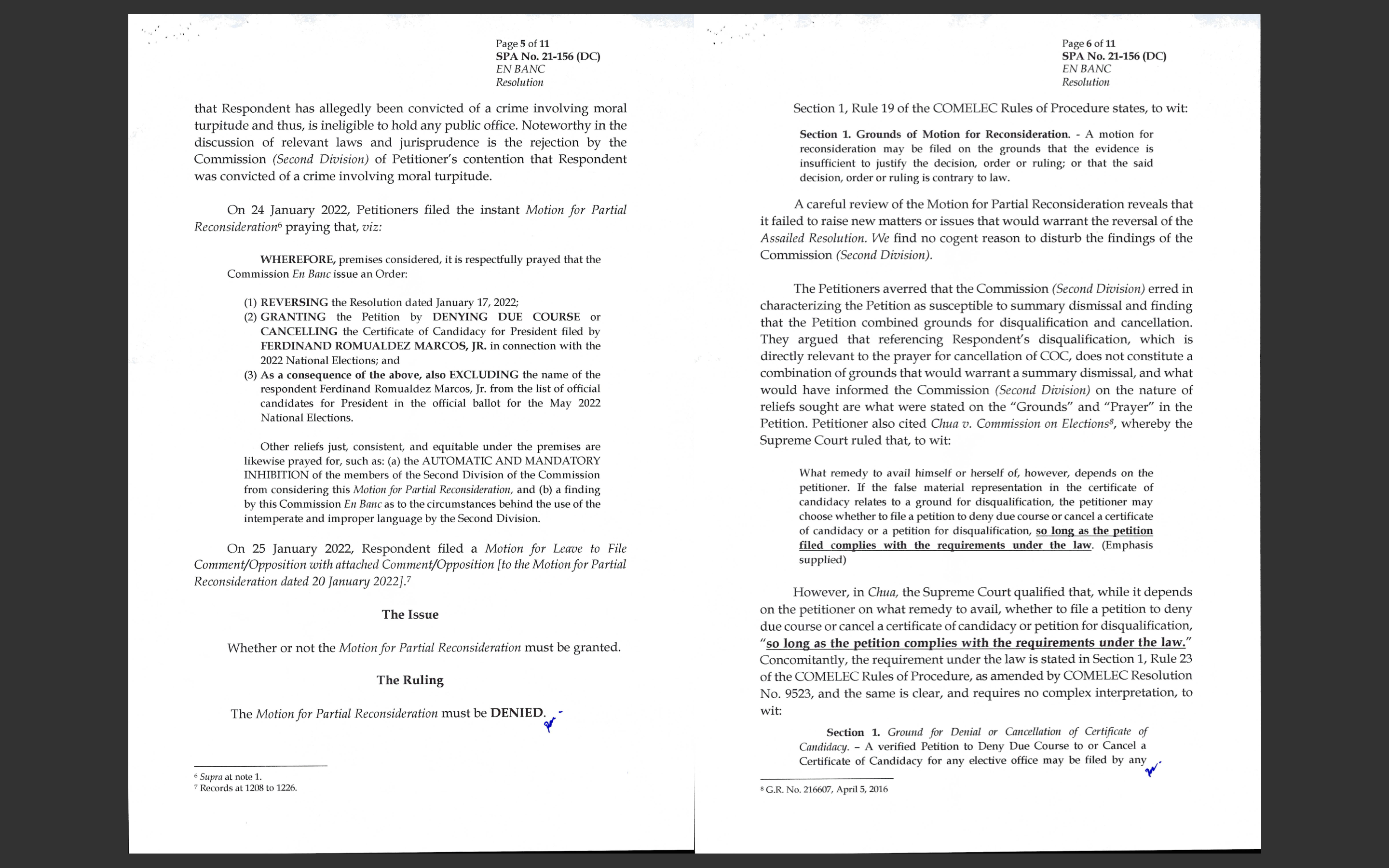 Lawyer Vic Rodriguez, Marcos' spokesperson, said the decision showed that the poll body is true to its mandate to be fair to all candidates.
"We have always believed that the poll body will stay true to its mandate to deliver fair, honest, and credible elections, including the dismissal of unmeritorious and politically-motivated petitions such as these," he said in a statement.
Amid criticisms that Marcos is unqualified for the country's highest position, Rodriguez said "the unanimous en banc decision has proven, once and for all, that no amount of undue political pressure can weaken the resolve of the honorable Commission to be on the side of truth and justice".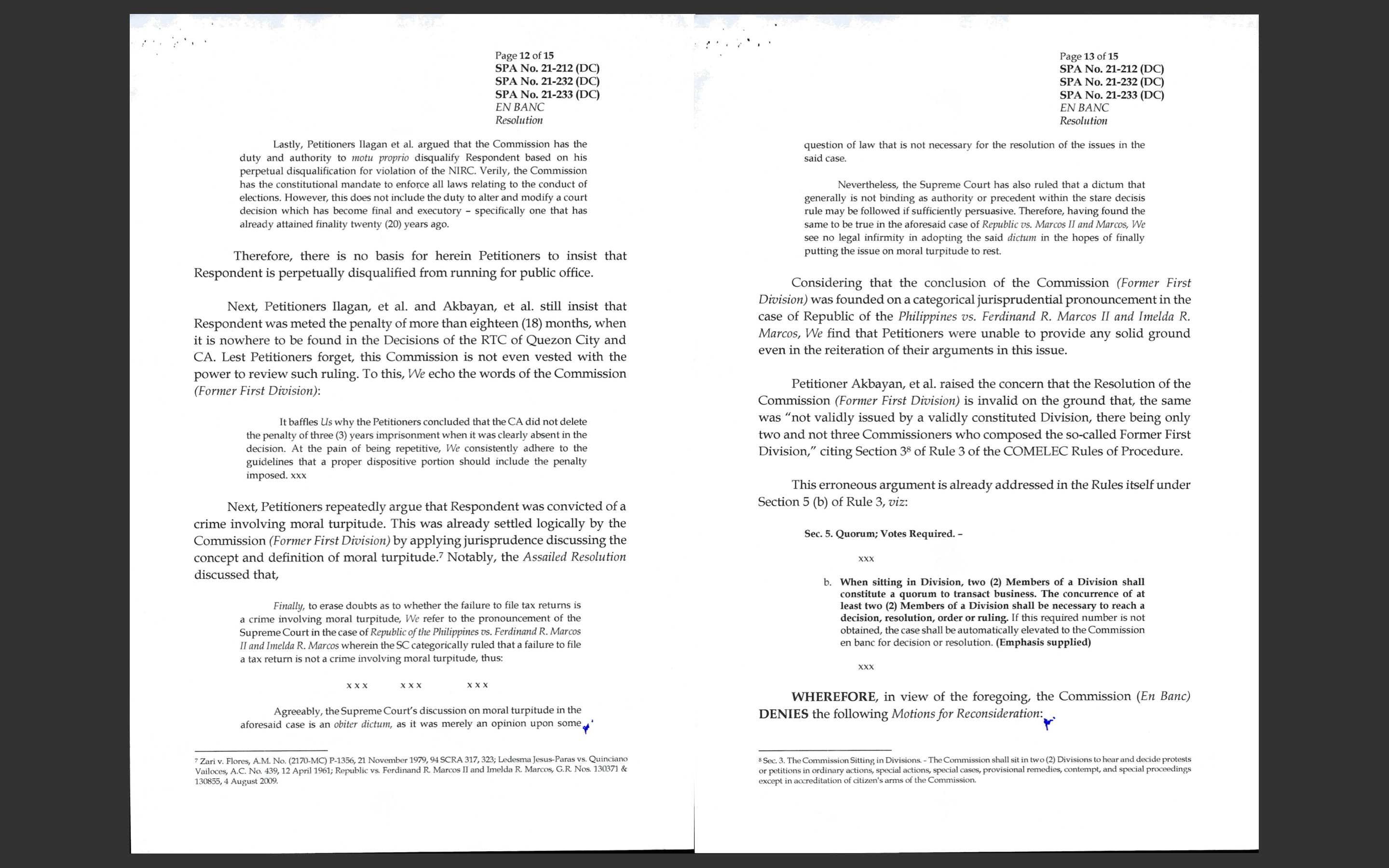 Commissioner George Garcia said the petitioners could still make an appeal before the Supreme Court, a move which Akbayan said it will resort to.
"Akbayan will appeal this case to the Supreme Court. We will pursue this case to its logical and just conclusion. We know that the law is on our side," the group said in a statement.
Marcos is way ahead in the presidential race as of the unofficial tally at 1 p.m., garnering 30.9 million votes as against Vice President Leni Robredo's 14.7 million in 97 percent of election returns. (PNA)