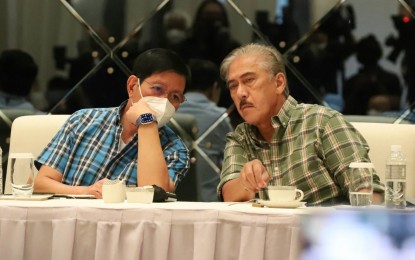 MANILA – Presidential candidate Senator Panfilo Lacson and his running mate, Senate President Vicente Sotto III, on Tuesday said they have accepted the results of the elections and would move on with their other plans.
Sotto even wished "Godspeed to our new President and Vice President".
In a tweet, Lacson said he is looking forward to spending more time with his family.
"I'm going home. After being away too long looking after the needs of other people, it is time to serve my family for a change. Enjoying peace and quiet in these challenging times will probably be my life's greatest reward," Lacson said in his post.
In an interview on Monday after casting his ballot in his home province Cavite, he said he is looking forward to farming, exercising again, and eating normally after a grueling three-month campaign.
Sotto, in a message sent to the media, said he has no regrets about their campaign.
"The people have made their choice. I accept the will of the people. We presented an alternative for a better system in governance and politics but the electorate had their minds conditioned elsewhere. Our word of honor and loyalty are of far greater importance than an election win. I am glad that I did not yield to any political pressure to change my principles and kept my integrity intact till the end," Sotto stated.
Ferdinand Marcos Jr. and Sara Duterte are way ahead in partial and unofficial counts of about 97 percent of polling precincts.
As of 1 p.m., Marcos already has 30.9 million votes as against Vice President Leni Robredo's 14.7 million.
Lacson (879,000) is running fifth behind Senator Manny Pacquiao (3.6 million) and Francisco "Isko Moreno" Domagoso (1.8 million).
Duterte has 31.4 million votes so far to lead Senator Francis Pangilinan (9.1 million) and Sotto (8.1 million).
Labor leader Leody de Guzman is currently eight among the 10 candidates with 91,700 votes.
"Hindi ko naman na ilalaban 'yung malayong boto ko at hindi ko na ilalaban 'yan para makaabot pa ako pero ako naman ay naniniwala na mayroong dapat ipaliwanag 'yung Comelec (Commission on Elections) sa dami ng report ng irregularities (I won't question my results anymore but I believe the Comelec has to explain numerous reports of irregularities)," he said in an interview with a news channel.
Robredo said in another statement that she would bring up with experts reports of irregularities and announced a get-together with supporters and volunteers on May 13. (PNA)