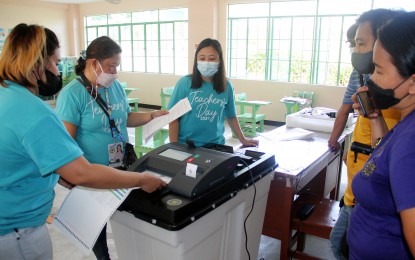 MANILA – Deputy Speaker Rufus Rodriguez on Tuesday urged the House of Representatives to look into the reported malfunctioning of several vote-counting machines (VCMs) across the country.
Rodriguez said defective VCMs and secure digital (SD) or memory cards resulted in the disenfranchisement of thousands of voters.
"We owe it to our voters to investigate these reports and recommend remedial measures, either via legislation or administrative sanctions or penalties to be imposed by the Commission on Elections on responsible personnel and/or its automation service provider, Smartmatic," he said in a statement.
Rodriguez urged the poll body to report to the public how many VCMs failed, the polling areas where the defective equipment was deployed, actions taken together with timeline, and number of voters affected.
"The Comelec and its automation contractor have not resolved these issues. There has to be a solution," he stressed.
Although May 9's balloting process was generally orderly, Rodriguez said he could not understand why many vote-counting machines and their SD cards failed, since the devices were supposed to have been tested for defects a few days earlier.
He cited complaints that in some areas in Quezon City, some VCMs did not function as early as the first hour of voting.
He further noted that it took Comelec personnel six hours to replace them, but when the replacement machines arrived at the voting centers shortly after lunch on Monday, poll workers found out that their memory cards were "corrupted".
Rodriguez pointed out that Comelec employees had to get new SD cards from the poll body's warehouse in Laguna, taking them at least 12 hours up to early this morning and forcing affected voters to spend the night in their polling centers to be able to cast their votes.
"Our voters should not go through this sad, unfortunate and totally avoidable experience again in future elections," he said. (PNA)