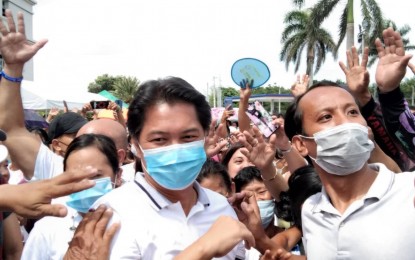 BACOLOD CITY – With a lead of almost 65,000 votes, former Negros Occidental third district congressman Alfredo Benitez defeated incumbent mayor Evelio Leonardia during the May 9 polls to introduce a new administration in this city starting June 30.
In a stunning upset that ended Leonardia's long-time dominance as city mayor, Benitez, who campaigned on a platform of change under the Asenso Bacolod banner, obtained 171,893 votes compared to the Grupo Progreso standard bearer's 107,447 votes.
"This is a win for the people of Bacolod. The change that we're looking for is what I intend to bring," Benitez told reporters after he was proclaimed by the Board of Canvassers at the City Council session hall on Tuesday.
Other winners included reelectionist Vice Mayor El Cid Familiaran, who got 128,893 votes, to defeat former councilor Caesar Distrito, with 103,236 votes, and outgoing councilor Wilson Gamboa Jr., an independent candidate, who earned 32,033 votes.
Lone District Rep. Greg Gasataya of Asenso Bacolod was elected for a third and final term after garnering 185,470 votes, edging out closest rival Dan Atayde, who obtained 80,591 votes.
Familiaran and Atayde ran under Grupo Progreso while Distrito is with Asenso Bacolod.
Former vice mayor and councilor Jude Thaddeus Sayson took the number one spot in the City Council, with 134,635 votes, followed by incumbents Israel Salanga and Cindy Rojas for the second and third places, with 123,237 and 122,629 votes, respectively.
Former councilor and city administrator Em Ang placed fourth with 116,953 votes while incumbent Al Espino landed fifth with 115,197 votes.
Newcomers Vladimir Gonzalez and Jason Villarosa obtained 113,145 and 111,027 votes, respectively, to land in sixth and seventh places.
Incumbent Renecito Novero got 113,046 votes for the eighth place while returning Claudio Puentevella, with 108,950 votes, took ninth place.
Another incumbent Simplicia Distrito earned 107,030 votes for 10th place, followed by comebacking Celia Flor, with 103,768 votes, and newcomer Psyche Marie "Pao" Sy, with 98,978 votes, for 11th and 12th spots, respectively.
Of the 12 spots to be filled up in the City Council, eight went to Asenso Bacolod while Grupo Progreso took four. (PNA)