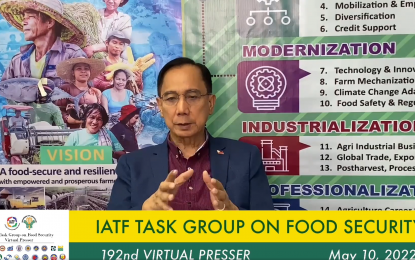 MANILA – The agricultural sector is likely to have its place among the next administration's top priorities, Department of Agriculture (DA) Secretary William Dar said on Tuesday.
In a virtual press briefing, Dar expressed his optimism as partial and unofficial tallies show a landslide win for presidential frontrunner Ferdinand "Bongbong" Marcos Jr.
"I believe that the next administration will have that political will, that ability to give the topmost priority or one of the topmost priority areas that is the sector of agriculture and budget for would be at the level of double of the present or tripling the present budget of the Department of Agriculture," he said.
Dar also urged the public to support the president-elect to continue aiming for stability despite the "brewing food crisis."
"We must unite and support the presidency of Ferdinand Romualdez Marcos Jr.," he said.
The secretary, meanwhile, noted that one of Marcos' slogans of PHP20 price is only viable for palay.
"I surmise that the PHP20 per kilo is for palay, not for rice, so we have a present farmgate price of palay at PHP19, so increasing that to PHP20 is very viable," Dar said.
Banner programs
With 51 days left before the Duterte administration ends, Dar said they will introduce their banner programs to the incoming administration to ensure food security in the country.
He particularly mentioned the National Agriculture and Fisheries Modernization and Industrialization Plan (NAFMIP).
"It was there that we launched itong strategic plan for the next 10 years, with a very solid foundation. Sa transition po, ito 'yung pinaka, isang (this is the most, one) big attachment. We will summarize this but there will be many other agenda items," he said.
Dar said this is very vital amid looming global effects of the ongoing Ukraine-Russia crisis and continuous crude price hike.
"NAFMIP will be the anchor for any significant budgetary support, we need to have more support this time around, para sa ganun, maitaas natin 'yung level ng production natin sa bansa (so that, we will increase the level of production in the country)," he said. (PNA)