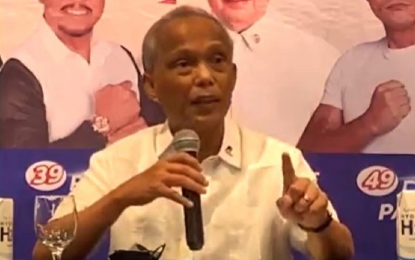 MANILA – The Partido Demokratiko Pilipino-Lakas ng Bayan (PDP-Laban) on Tuesday enjoined the public to stand united and support the next administration for the country's progress and development.
PDP-Laban president and Energy Secretary Alfonso Cusi made the call, as he lauded the "peaceful and orderly" conduct of the May 9 national and local elections.
"Congratulations to the Filipino people for the conduct of a generally peaceful and orderly elections," Cusi said in a Facebook post uploaded on the PDP-Laban's official Facebook page.
Cusi called for unity, as he emphasized the need to continue President Rodrigo Roa Duterte's promise of change.
"Congratulations to the winners and we call on everyone to now focus on working together for the good of all," he said.
Duterte is set to step down from office on June 30.
Duterte, chair of the PDP-Laban, did not endorse any presidential candidate, but his political party expressed support for the presidential bid of former senator Ferdinand "Bongbong" Marcos Jr. who is leading the partial and unofficial count of votes for the presidential race.
The PDP-Laban also backed the candidacy of vice presidential candidate and Davao City Mayor Sara "Inday" Duterte who is also enjoying a wide lead in the vice presidential race.
PDP-Laban Senate bets Salvador Panelo and Rey Langit, who failed to enter the top 12 of the senatorial elections, already accepted their defeat, but vowed to support the Marcos-Duterte tandem.
PDP-Laban senatorial aspirant Robin Padilla, meantime, bested his contenders, as he led the race to Senate, according to the unofficial vote count of poll watchdog Parish Pastoral Council for Responsible Voting.
Astra Pimentel and Greco Belgica, the two other senatorial candidates of the PDP-Laban, failed to make it to the Senate's "Magic 12." (PNA)