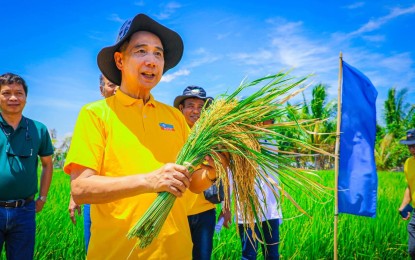 MANILA – The deployment of the first engineered and nutrition-rich golden rice is seen as one of the last legacies of the Duterte administration before it ends in less than two months' time.
In a virtual presser, Agriculture Secretary William Dar noted the positive development on Tuesday, as the agency is eying its commercialization following its kickoff in Nueva Ecija, on May 6.
"Pilipinas (The Philippines) is leading the way in terms of development, commercialization of golden rice. This is one legacy that we can say, be very important in terms of, again, ensuring food and nutrition in the country," he said.
Likewise, DA spokesperson Assistant Secretary Noel Reyes added some countries have expressed interest to follow the Philippines' move.
"Ito po kauna-unahan sa buong mundo dito tayo sa golden rice. In fact 'yung ibang countries, 'yung Bangladesh gusto nang makipag, manghiram sa atin (This is the first-ever [production] in the whole world, for golden rice. In fact, other countries, like Bangladesh, want to borrow from us)," he said.
The DA works closely with the Philippine Rice Research Institute (PhilRice) and the Central Luzon State University to ensure they will be able to materialize its production, as they launched the seed turnover.
In an earlier statement, Dar underscored how commercializing golden rice will help promote the well-being of Filipinos.
"This is another breakthrough that we must introduce especially in areas that are experiencing vitamin A deficiency," he said.
According to PhilRice, the production and commercialization of golden rice intend to address Vitamin A deficiency (VAD), as it underwent a technique using modern biotechnology.
"Golden Rice is a new type of rice with a significant amount of beta carotene in its grains, which when regularly consumed as a staple can provide at least 30 percent of the estimated average requirement for Vitamin A. This beta carotene, similar to what is found in orange-colored fruits and vegetables, is converted to vitamin A as needed by the body," it said.
Besides the golden rice kickoff, the DA also insisted the country has been continuously increasing its rice production, encouraging the public that an even higher rice sufficiency is possible, given a sound prioritization and effective irrigation system.
The department also said the Rice Tariffication Law has been a game-changer in Philippine Agriculture. (PNA)