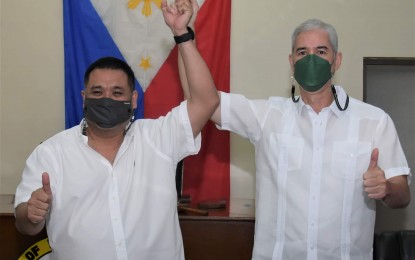 BACOLOD CITY – Governor Eugenio Jose Lacson and Vice Governor Jeffrey Ferrer were proclaimed winners by the Provincial Board of Canvassers on Wednesday after securing fresh mandates for a second term during the May 9 elections.
Lacson, who heads the local coalition Love Negros, obtained 935,079 votes against two opponents while Ferrer, who belongs to the United Negros Alliance, garnered 818,245 votes to win against a lone challenger.
"The unanimous number of votes given to us by the Negrenses is a manifestation of the approval of what we have done in the past three years. We take this as an inspiration and a reminder that we should continue to do even better," Lacson told reporters.
Reelected to the Provincial Board were board members Rommel Debulgado and Araceli Somosa (first district); Sixto Guanzon Jr. and Samson Mirhan (second district); Manuel Frederick Ko and Andrew Montelibano (third district); Jose Benito Alonso (fourth district); Rita Gatuslao (fifth district); and Valentino Miguel Alonso and Jeffrey Tubola (sixth district).
Newcomers included Andrew Martin Torres and Anthony Occeño of the fourth and fifth districts, respectively.
Reelected as representatives were Gerardo Valmayor Jr. (first district), Jose Francisco Benitez (third district), and Juliet Ferrer (fourth district).
Also voted for congressional posts were outgoing Sagay City Mayor Alfredo Marañon III (second district), former vice governor Emilio Bernardino "Dino" Yulo (fifth district), and former House of Representatives deputy speaker Mercedes Alvarez (sixth district). (PNA)