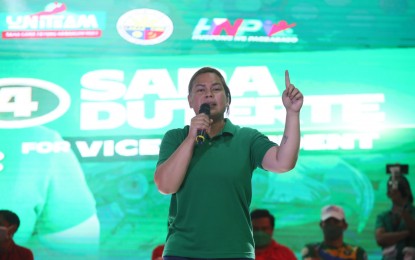 MANILA – Presumptive Vice President Sara Z. Duterte has agreed with incoming President Ferdinand "Bongbong" Marcos Jr. to head the Department of Education to help produce "skilled learners" for the country.
Marcos, on Wednesday evening, said in a press statement that he would nominate Duterte as education secretary, which he said will be the beginning of the growth in the country's education sector as he relates her to being a mother who wants to make sure that children will be well-trained and well-educated.
"Si Inday Sara, tinanong ko siya kung kaya niya 'yung trabaho dahil mahirap ang trabaho ng Secretary of Education, pero nag-agree naman siya. At palagay ko, kasama na diyan, dahil (I asked Inday Sara if she can handle the job, it's not easy to be secretary of education, and she agreed. I think it's because) she is a mother, and she wants to make sure that her children are well-trained and well-educated. That's the best education that we can hope for," Marcos said.
Duterte, in a statement, said she was thankful for the confidence given to her.
She revealed that prior to the campaign, the two had discussed that she would be appointed as secretary of the Department of National Defense (DND), but it will no longer be the case with the new development.
"Before the campaign, we talked about the Department of National Defense. But seeing the way things are at the moment, I expect that people who want to see the new administration fail will fabricate intrigues about my loyalty and the DND position to break the UniTeam," Duterte said.
She added: "The Uniteam wants a stable Philippines and the most harmonious administration possible."
She said that she and Marcos talked again yesterday about how she could help in the country and decided that she could work on producing skilled learners with the mindset to realize their "full potential as individuals."
"Our country needs a future generation of patriotic Filipinos that advocate peace and discipline in their respective communities," Duterte said.
Outgoing DepEd Secretary Leonor Briones said in a statement that although it is the "first time in an outgoing administration" to turn over a medium-term plan, they are confident that the "Basic Education Plan 2030" will be in able hands and anticipate continuity.
Duterte thanked Briones for their readiness to work with Duterte's team for a smooth transition under her administration.
"Meanwhile, we thank Sec. Leonor Briones and the entire DepEd organization for their readiness to work with our team for the transition of leadership after the proclamation," Duterte said.
She added: "We recognize the sincerity, hard work, and dedication of Sec. Liling in implementing education reforms under the Duterte administration." (PR)