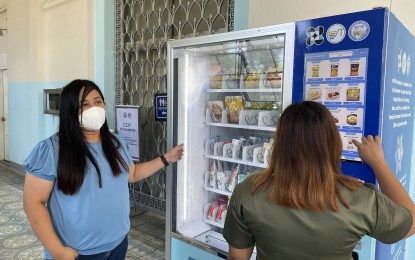 LAOAG CITY – Locally-manufactured products of micro, small and medium entrepreneurs (MSMEs) in Ilocos Norte got a boost here with the introduction of the first vending machine that offers local products at the west wing lobby of the Ilocos Norte Capitol building.
Elma Gabriel, head of the Micro, Small, and Medium Enterprise Office (MSMEO), said the machine was donated by the Department of Science and Technology to make local products available to a wider market and as part of the DOST's efforts toward a "smarter Philippines."
"The vending machine allows you to purchase a variety of snack foods and beverages and it operates 24/7," she said in an interview Thursday.
Instead of going out of the Capitol to buy meals or snacks, Capitol employees including visitors who transact business in the area can go to the vending machine.
Currently, the vending machine offers fresh salads, sandwiches, drinks, and desserts.
"It's a wish granted for all of us. We look forward to the arrival of a cashless DOST vending machine version 2.0," said Wilfredo Lorenzo Jr., an information technology expert at the capitol.
In June last year, the Ilocos Norte government, through its MSMEO and the Ilocos Norte Trade and Investment Promotions Center (INvest), inaugurated an all-in store at the Paseo de Paoay, which served as a warehouse facility and display area for local products from the different MSMEs in Ilocos Norte.
The store aims to help them increase their sales, prepare their products ready for export, and jumpstart their business operation. To complement the physical store, the DOST also established an e-commerce platform to assist MSMEs in expanding their market both locally and internationally.
"The 'OneSTore Hub' hosts all locally produced products of Ilocos Norte as these were put together in a site, its price stated, where buyers are free to select and choose their own taste according to their level of satisfaction," Gabriel said.
To date, there are 34 MSMEs and farmers' associations that are actively engaged in the OneStore hub. (PNA)