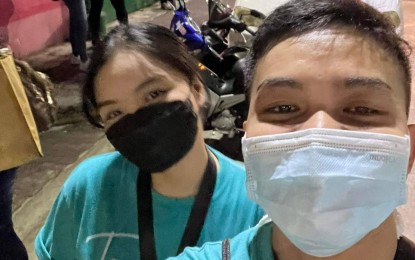 MANILA – Just before Filipinos elected their new set of leaders on Monday, 25-year-old teacher Bea Joy Arcenio spent her night bracing for a long, uncertain yet exciting day in her life.
It was one of the historic "first" in her career as an educator, she thought, purposely posing a conditioned outlook for her role as a third member of their electoral team.
"This was my first time to sit for the elections…We were already in school by 1 a.m. to prepare the things, vote counting machines (VCMs), battery, the official ballots," she narrated.
By her role, it meant ensuring voters properly fed the ballots into the VCMs.
She said there were times that papers got jammed inside the machine.
"I was awake for more than 24 hours but that doesn't mean I was not able to look after the ballots. The preparations and training of teachers are not a joke," she said
Rica Joy Aquino, 25, a teacher and an emergency accessible polling places (EAPP) support staff, shared her own struggle assisting the elderly and persons with disabilities to cast their ballots.
"My election experience was not so good. First, the supplies given by the Commission on Elections were not enough for the four barangays which caused delays," she said, adding there were a couple of rude voters who wanted to cut in line.
Still, she remained composed in keeping an eye on the ballots, at the same time, doing the procedures and protocols to ensure the sanctity of the votes.
After all the polling precincts had closed, there were several allegations of election fraud and massive cheating.
But for some teachers on duty, such claims were hard to prove, considering the amount of technical and physical safeguards in place.
Poll clerk Beia Jane Paula Tabuzo, 28, insisted they can attest to the authenticity of the results in their area.
"We secured, and reassured that all ballots entering VCMs all accounted for. No one can touch the VCM but the EB (electoral board) members only and also we have a lot of watchers," she said.
Despite the clamor of numerous youth and enraged voters on the streets, Aquino and Arcenio insisted that supporters of losing candidates should respect the decision of the majority.
"I'm happy as our youth during elections are aware and engaged in the entire process. They are not passive voters. (But) I advise them to respect the outcome of this election. It has gone through a legal process of choosing, and all were given the right [to vote]," Aquino said.
Arcenio also said now is not an ideal time for a divided country amid the pandemic.
"We need to accept and watch every step of those who won. Let's keep in mind that we are in the middle of a pandemic. We need each other to recover. ..This is not the time to be divided," she said. (PNA)