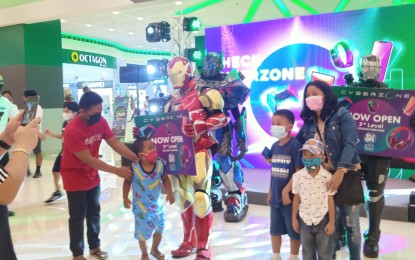 URDANETA CITY, Pangasinan – Over 800 residents of Pangasinan have been employed as SM City Urdaneta Central opened its third level expansion on Friday.
In an interview, SM City Urdaneta Central mall manager Abraham Malicdem said the construction of the third level was planned as early as 2018 but it was disrupted by the coronavirus disease 2019 (Covid-19) health crisis.
"The construction resumed last year when the restrictions slowly eased," he said.
He noted that the economic activity in the province has been improving as the number of Covid-19 cases dropped and the alert status has been lowered to Level 1.
"More and more people are coming here even children are now allowed inside the mall," Malicdem said.
However, he said they continue to implement the health protocols and assured the customers of safe shopping and dining.
He noted the Safety Seal certification issued by the local government unit that testifies to the mall's and its tenants' compliance with the minimum public health standards.
Malicdem said the employees and tenants are now fully vaccinated and that the mall management will ensure they also get the booster shots.
SM City Urdaneta Central opened in 2018 and currently has 152 tenants. The Level 3 expansion has a total floor area of 11,219.20 square meters with 3,953.78 sqm total leasable area. (PNA)