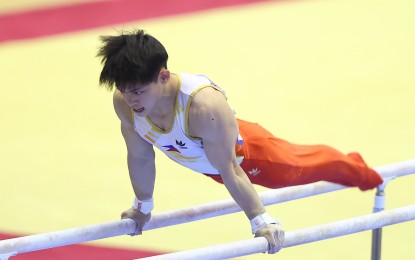 HANOI – Kurash (folk wrestling) athlete Jack Escarpe and world gymnastics champion Carlos Yulo won the country's second and third gold medals in the 31st Southeast Asian Games (SEA Games) here on Friday.
Bucking a slip in the pommel horse that incurred a penalty, the 22-year-old Tokyo Olympian Yulo amassed 85.150 points in six apparatuses and bagged the individual all-around title, beating hometown bets Le Thanh Tung (84.050) and Dinh Phuong Thanh (82.450), who settled for silver and bronze, respectively.
Escarpe was victorious in the men's 73-kilogram (kg) event.
On Wednesday, Francine Padios (pencak silat) bagged the country's first gold.
The Philippines has also amassed seven silver and nine bronze medals to rank fifth behind host Vietnam, which has started to pull away with 20 gold, 11 silver and 15 bronze medals; Malaysia (11-5-8); Indonesia (5-8-1); and Thailand (3-5-11).
Singapore and Myanmar have two gold medals each.
Ongoing at press time is kickboxing, where six Filipinos are assured of at least silver medals.
Medal performers in the SEA Games will meet with President Rodrigo Duterte before he leaves Malacañang on June 30.
Philippine Sports Commission (PSC) chair William Ramirez said in a news release on Friday that SEA Games medalists will receive cash benefits under Republic Act No. 10699 or the National Athletes and Coaches Benefits and Incentives Act.
An individual gold medalist from the SEA Games will get PHP300,000, a silver medalist PHP150,000, and bronze medalist PHP60,000.
"But knowing the President, it's his style to give additional cash bonuses to the athletes aside from what has been provided for by law once they visit him in Malacañang," Ramirez said.
Ramirez said amid the Covid-19 pandemic, the athletes are fortunate that Congress appropriated money to finance their training, needs, and foreign exposures.
The PSC bankrolled the participation of the 980-strong Philippine contingent, including 641 athletes and 210 coaches in 38 sports to the tune of P232 million.
The budget covers plane tickets, hotel and billeting, and allowances of athletes and coaches, among others.
"The President is very supportive and of course, we are also thankful to the private sector for giving them additional incentives," Ramirez said.
Since the SEA Games is an integral part of the national team's preparation for next year's China Asian Games and the 2024 Paris Olympics, Ramirez said it is only proper to give athletes the opportunity to hone their abilities.
The 2020 Tokyo Olympics, held last year because of the pandemic, saw weightlifter Hidilyn Diaz win the country's first ever gold medal in the quadrennial event.
Athletics, triathlon bets start quest

On Saturday, a well-equipped and fully prepared athletics team begins its shot at glory, led by Asia's top pole vaulter Ernest John Obiena and sprinters Kayla and Kyla Richardson, at My Dinh National Stadium here.
The Filipinos expect to be in contention in the pole vault and javelin, where Obiena and Melvin Calano are the defending champions, respectively; the 200 meters, where the Richardsons are entered as substitutes to injured Olympian Kristina Knott; and possibly, the medley relays, too.
Andrew Kim Remolino and women's defending champion Kim Mangrobang will get going in triathlon at the Sunset Bay here.
Remolino, 22, Cebu's top triathlete, is out to improve on his silver-medal finish in the Philippine SEA Games three years ago at the Subic Bay Freeport, where compatriot John Leerams "Rambo" Chicano reigned supreme.
Giving him a hand in the men's 1.5-kilometer swim, 40-kilometer bike, and 10-kilometer run event is Filipino-Spanish Fernando Tan Caseres, 26.
Mangrobang, who triumphed the last time out in two hours and two minutes, will be joined by Raven Faith Alcoseba in the women's race.
"It's going to be the same finish – 1 and 2 or gold and silver. Our triathletes and duathletes are in good condition so I believe we can still retain the title," said triathlon coach George Vilog.
Chicano will race in Sunday's duathlon event in the company of Raymund Torio while Mangrobang will do double duty, competing alongside Alex Ganzon.
Golfers stumble
In golf, Thailand imposed its will early while the expected early charge of Filipinos sputtered in both men's and women's divisions at Heron Lake Course.
Jet Hernandez, Jed Dy and Gab Manotoc each carded two-over 74s and fell six strokes behind Weerawish Narkprachar, who set the early pace with a four-under 68.
The Thai led by one over Singapore's Hiroshi Tai, who fired a 69, while Pongsapak Laopakdee, also of Thailand, and Indonesian Amadeus Chrisitan Susanto matched 70s.
Fancied Thai Rathanon Chantananuwat, coming off a big victory in an Asian Tour event last month, turned in a 71 for joint fifth with Ervin Chang of Singapore and local ace Nguyen Anh Minh.
Kristoffer Arevalo, the other member of Team Philippines, submitted a 78.
The women's squad of Lois Kaye Go, Mafy Singson, and Rianne Malixi all fumbled with 76s and stood nine strokes behind a hot-starting Natthakritta Vongtaveelap and Eila Galitsky, both of Thailand, who exploded with five-under 67s.
The leaders opened a four-shot lead over Malaysian Jeneath Wong and Singapore's Suanne Loh, who both shot 71s, with the rest going over in the first round of the 54-hole championship.
The national women's team made up of Bianca Pagdanganan, Go, and Abby Arevalo swept the individual and team gold medals in the last SEA Games at Luisita Tarlac in 2019. The team competition will start on Monday. (PR)