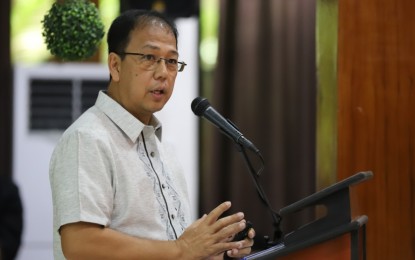 MANILA – The Office of the Presidential Adviser on Peace, Reconciliation and Unity (OPAPRU) will hand its peace roadmap to the next administration once the new officials assume office.
OPAPRU Secretary Carlito Galvez Jr. cited the significant milestone of President Rodrigo Duterte's administration "to strengthen the foundations where a just and long-lasting peace can take root and flourish".
"We will turn over to the new administration once it assumes office a proposed peace policy agenda and refreshed three-year roadmap of the peace tables and support programs that build upon the gains of the peace process," Galvez said in a statement.
He hopes that the roadmap will help the incoming administration in formulating its own peace and development agenda as well as "pushing forward the comprehensive Philippine peace process".
"Key milestones have been realized during the term of President Rodrigo Duterte. It is our hope and prayer that the incoming administration will continue to protect, sustain, and build upon the gains of the country's peace processes," Galvez said.
"I am very confident that the next administration will lead in our collective quest for a just and lasting peace in the country," he added.
The Duterte administration is implementing the Six-point Peace and Development agenda that serves as a guide for the government's peace process initiatives; peace agreements; and protection and development of conflict-affected and vulnerable communities in support of the Philippine Development Plan 2017-2022 dubbed Malasakit, Pagbabago at Patuloy na Pag-unlad (Compassion, Change, and Continuous Change).
Galvez likewise called on the public to set aside differences and help the next government in pushing for a better nation.
"We are rallying all the Filipino people to come together. The election is over. Let us work together in tearing down the walls of divisiveness, bitterness, and animosity of partisan politics as we move toward national healing and reconciliation," he said.
Galvez also told opposing camps to "respect the decision of the majority and support the new administration as it takes over the reins of nation-building".
"I call on our peace partners and former rebel groups to continue to work for peace, especially in Mindanao since the spokesperson of the presumptive President has earlier said that the peace and progress in Mindanao is one of their priorities under its unifying vision," Galvez said.
The Duterte administration is "leaving behind a legacy of peace", Galvez said.
"May this legacy of peace be sustained by the next administration so that we can create a better, brighter, and peaceful future for the next generations," he added. (PNA)