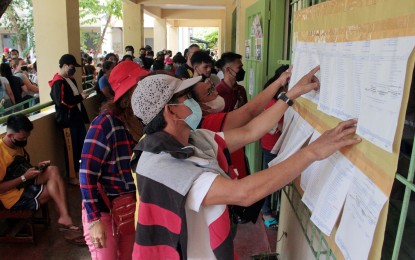 MANILA – The Commission on Elections (Comelec) is looking at proclaiming partial winners in the party-list race.
"We may partially proclaim based on the total votes that we have right now. Of course, under consideration the areas that will be having special elections," said Comelec spokesman lawyer John Rex Laudiangco in a press briefing.
"But then again, as I've said those that are on the bottom part of the 63 seats, their rankings are so close, so if ever we will having partial proclamation it would be on the top tier, those on top of the ranking," he added.
Special polls
Laudiangco said the Commission en banc is looking to conduct special polls in 12 barangays in Tubaran, Lanao del Sur before the end of the month.
"We have a projection that the special polls there may be held on May 24. Right now the situation there is contained. Violence has been quelled and controlled and all preparations are being done in order to pursue the special elections. Again for Tubaran, there is no need to print the ballots, no need to prepare the vote-counting machines, all of these are with us and intact," he added.
The Comelec, however, has yet to schedule special polls in two barangays in Butig and Binidayan, Lanao del Sur.

At the same time, the poll body spokesman added the Commission is studying the possibility of how to get the results of the overseas voting in Hong Kong, Macau, and other areas in mainland China, except for Shanghai, to be able to start canvassing the votes.

A total of 1,991 registered voters in Shanghai have yet to cast their votes as the lockdown is still in effect there due to the rise in coronavirus disease 2019 (Covid-19) cases.

Proclamation of winning senators
Laudiangco added that they are on track in preparing for the proclamation of the 12 winning senators.
"Yes, we are on track and we project next week or early next week as our timeline for the proclamation," he said.
"The intention is to proclaim all together with the 12 winning senatorial candidates," the Comelec official added.
The Comelec has reminded winning senators they are allowed only three companions at the proclamation ceremony while party-list groups are permitted to bring two guests. (PNA)