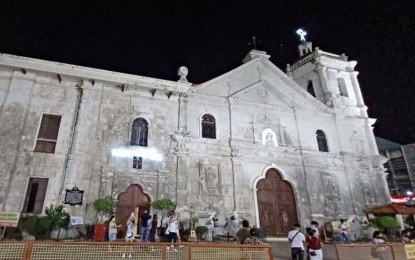 CEBU CITY – The Cebu City police on Monday said it started to beef up security in tourist destinations and some areas of convergence here as the city expects an influx of local and foreign tourists following the lowered coronavirus disease 2019 (Covid-19) alert status.
Lt. Col. Ma. Theresa Macatangay, Cebu City police spokesperson, said although travelers have nothing to worry about the peace and order situation, the local cops need to ramp up their effort as more establishments are now opening.
"So far, our tourist destinations have maintained ample tourist police deployed. We also have force multipliers and barangay peace and security officers who are helping them secure the tourist spots," Macatangay said.
Among the destinations frequented by foreigners and local tourists are the 457-year-old Basilica Minore del Sto. Niño where the famous Magellan's Cross is situated, the Spanish colonial era Plaza Independencia, and Fort San Pedro.
Aside from downtown Colon St., the country's oldest and the shortest national road, people are also expected to experience crossing Cebu's new landmark, the 8.9-kilometer-long Cebu-Cordova Expressway.
Macatangay said visitors are assured of their safety in the city, which has been proven to be a major destination of choice and a doorway to and from other provinces in the country.
She, however, urged visitors to take note of the contact numbers of the nearest police stations and to report suspicious activities to the authorities.
"Even if Cebu City is safe and peaceful, it is still important that each one of us remains vigilant and wary against bad elements. We should be able to know the numbers of police stations here in Cebu City," she added.
The Department of Tourism-Central Visayas record showed that a year before the Covid-19 pandemic was declared, Cebu hosted 1.4 million foreign tourists.
Cebu is home to Mactan Cebu International Airport, the second busiest airport in the country and the center of the country's maritime travel to and from other provinces in Luzon, Visayas, and Mindanao. (PNA)