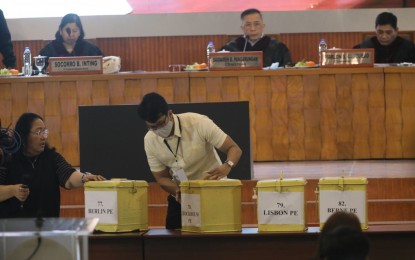 MANILA – The Commission on Elections (Comelec) on Monday approved the request of the Office of Overseas Voting (OFOV) in Hong Kong to allow the transmission of its Certificate of Canvass (COC) without waiting for the results of special polls in Shanghai, China.
In a two-page resolution, the Commission en banc allowed Hong Kong to transmit its votes to the National Board of Canvassers (NBOC) in Pasay City.
"The Commission resolved, as it hereby resolves to approve the request of OFOV Director Sonia Bea Wee-Lozada, as follows: to modify the En Banc Resolution allowing SBOC (Special Board of Canvasser) of Hong Kong PCG (Philippine Consulate General) to general a Canvass Report as conveyed in advance by the Memorandum No. 220923 dated 12 May 2022 (Ref. No. 768-22)," the resolution read.
"To provide instructions to the SBOC at Hong Kong PCG that in lieu of the Canvass Report, they are directed instead to manually encode the election results for Shanghai PCG as zero (0) to enable electronic transmission of its election results from SBOC Hong Kong PCG to NBOC," the resolution further stated.
The Comelec said "the resolution shall be without prejudice to future decision on the status of overseas voting in Shanghai PCG".
There are 1,991 registered Filipino voters in Shanghai who have yet to cast their votes as a lockdown is in effect due to a surge in Covid-19 cases.
Aside from Hong Kong PCG with 93,886 voters, the other posts in China are Macao PCG, 14,653; Beijing Philippine Embassy, 1,113; Xiamen PCG, 640; Chongqing PCG, 192; Guangzhou PCG, 924.
In a statement, Deputy Mayor Zong Ming said Shanghai will reopen in stages by June 1, with movement curbs largely in place "as long as risks of a rebound in infections are controlled". (PNA)