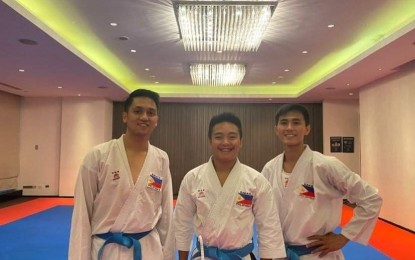 DAGUPAN CITY – Three Dagupeño karatekas who are members of the 18-man Philippine karate delegation are competing in the 31st Southeast Asian (SEA) Games in Vietnam.
"They (are) with the team (who) flew to Hanoi, Vietnam last Sunday (May 15)," Dr. Alejandro Vasquez, chief instructor at the Filipinas Wado Ryu Karatedo Renmei based here, said in an interview on Monday.
One of the athletes is John Enrico "Joco" Vasquez, 21, from Barangay Malued and a third-year Bachelor of Science in Accountancy student at San Beda University is a double bronze medalist in the 2019 SEA Games and ranked sixth in the World Karate Federation.
Another is Jayson Ram Macaalay, 29, from Barangay Caranglaan, who graduated in Hotel Restaurant Management at the University of Luzon.
"Macaalay is a veteran SEA Games athlete. He captured bronze in the 2019 SEA Games, silver medal in the 2017 SEA Games, silver in the Team Kumite, and bronze in the individual Kumite in the 2011 SEA Games," Vasquez said.
The third Dagupeño is John Matthew Manantan, 24, from Barangay Mayombo and an information technology graduate at the University of Luzon.
"It is his first time competing in the SEA Games but had competed in other international karate competitions. He was a cadet gold medalist both in the 2012 and 2013 SEAKF (South East Asia Karate Federation) and a bronze medalist in the SEAKF 2014," he said.
Manantan was a member of the technical officials in the 2019 SEA Games. It was his older brother Mark Andrew Manantan who competed in the 2019 SEA Games together with Vasquez and Macaalay, and also won a bronze medal.
Vasquez said the events of the three are scheduled for May 18. (PNA)