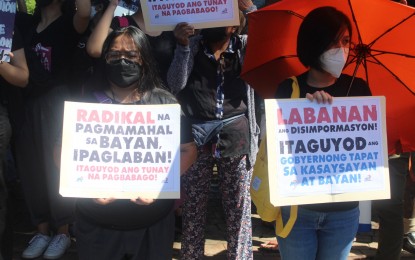 MANILA – Election watchdog Kontra Daya is made up of active urban operators and infiltrators of the Communist Party of the Philippines-New People's Army-National Democratic Front (CPP-NPA-NDF), a former cadre of the communist terrorist groups said on Monday.
In a statement, Jeffrey "Ka Eric" Celiz claimed that the "Kontra Daya group is known among former rebels, cadres, and organizers of the CPP-NPA-NDF" as "nothing but a special project of the communist terrorists' urban operators and infiltrators".
Celiz identified one of the core leaders as Danilo Arao, a University of the Philippines professor and who identifies himself as a journalist connected with Media Asia, Kontra Daya, Bulatlat, Pinoy Weekly, and Kodao Productions.
Arao, Kontra Daya convenor, said the May 9 election was the worst in automated election history.
"Kung may mas mababa pa na grado sa singko, 'yun ang ibibigay ko sa Comelec (Commission on Elections) pati na sa (service provider) Smartmatic (If there is a grade lower than 5, that goes to Comelec and even Smartmatic)," Arao said at the media forum "Balitaan sa Maynila" on Sunday.
The country's first nationwide fully automated election was held in May 2010 using the Precinct Count Optical Scan (PCOS) machine.
Celiz said Kontra Daya is a CPP project being used to manipulate electoral public opinion.
He added that opinions, instigation of electoral fraud, and party-list manipulation are among the standard propaganda operation lines of the CPP-NPA-NDF and passed on by Kontra Daya as political analysis.
"Though there may be some interesting insights regarding how the influential and wealthy families try to dominate the party-list groups, yet the bogus Kontra Daya group maliciously and consciously avoids and brushes aside the exposition on the very obvious fact that the CPP-NPA-NDF, which is the main operator, is the one that really continues to infiltrate, hostage and sabotage the integrity of our electoral process, including their deceptive and manipulative 'Kamatayan party-lists' which are the vehicles for the communist terrorists' government bureaucracy infiltration," he said.
The obvious and intentional slant of Kontra Daya, Celiz said, covers up the actual electoral and bureaucracy infiltration operation of the communist terrorist group, "an act that is premeditated and orchestrated by the leadership of the CPP-NPA-NDF".
Celiz, the top nominee and secretary general of Abante Sambayanan that participated in the recent elections, said their group has been one of the victims of prejudiced and partisan public opinion manipulation, which he called a "mind frame game and conditioning modus operandi".
Kontra Daya participated in post-election protests and rallies, including the so-called "Black Friday Protest" on May 13.
The election watchdog called on the Comelec to investigate the alleged electoral fraud in the recent polls. (PNA)