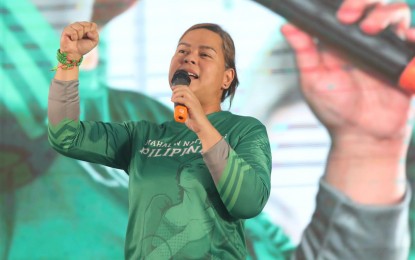 MANILA – Acting Prime Minister of the Republic of Korea Choo Kyongho has congratulated Sara Duterte on her presumptive win as the 15th vice president of the Philippines in the last May 9 polls.
In a letter addressed to Duterte on Monday, Choo expressed his confidence that under Duterte's leadership, the Philippines will "continue on its path of stability and prosperity."
He noted that the Philippines has a "very special significance to Korea" following the former's participation in the Korean War in the 1950s and as a "long-standing partner with the longest history of diplomatic ties" among members of the Association of Southeast Asian Nations (Asean).
"I look forward to close cooperation between the two new governments to further elevate the Korea-Philippines relations," Choo said.
In a statement, Duterte announced plans to hold her inauguration as vice president of the Philippines in Davao City on June 19.
She noted that the event was scheduled earlier than the traditional June 30 inauguration to allow her to attend the oathtaking of the presumptive president Ferdinand "Bongbong" Marcos Jr.
Earlier, Korean President Yoon Suk Yeol congratulated Marcos and noted the Philippines' role as a "key partner" in Korea-ASEAN relations. (PNA)