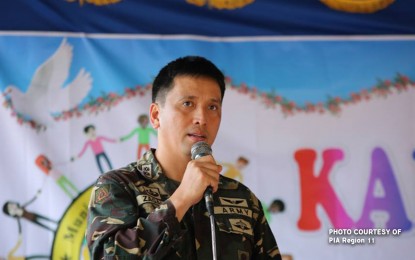 MANILA – The Armed Forces of the Philippines (AFP) lauded the National Task Force to End Local Communist Armed Conflict (NTF-ELCAC) for resolving many problems in the so-called "geographical isolated and disadvantaged areas" (GIDAS), which greatly help in neutralizing the Communist Party of the Philippines-New People's Army (CPP-NPA) in the countryside and resulting in their failure to extort from politicians in the just concluded elections.
"We thank the NTF-ELCAC because a lot of the problems that our 'kababayan' (countrymen) face in the GIDAs were solved via the programs of the NTF-ELCAC. A lot of the barangays in these GIDAs were addressed and this resulted (in) the inability of the NPAs to conduct any more tactical offensive nor collect 'permit-to-win' or 'permit-to-campaign'," AFP spokesperson Army Col. Ramon Zagala said during the NTF-ELCAC virtual presser Monday.
Some NTF-ELCAC projects include the Barangay Development Program (BDP) and the Enhanced Comprehensive Local Integration Program (E-CLIP), the task force's whole-of-the-government approach to addressing development and security issues affecting former rebels and indigenous peoples (IPs) within communist-infiltrated areas.
The NTF-ELCAC and its regional counterparts have been implementing BDP that aims to deliver various government projects to about 1,406 barangays nationwide identified as conflict-afflicted and geographically isolated villages that have been considered "cleared" from the influence of communist rebels.
Each barangay is entitled to PHP20 million worth of farm-to-market roads, classrooms, water and sanitation systems, health stations, and livelihood projects.
Zagala said these initiatives by the NTF-ELCAC can be credited for laying the "foundation of peace" in these communities which also helped in ensuring that the just-concluded elections are peaceful and orderly.
"It was generally peaceful and we attribute this really for laying the foundation of peace through so many years of NTF-ELCAC, and also our campaign, and the good governance and good interaction with our local chief executives," he said.
And with the NPAs on the decline, Zagala hopes that the insurgency will end soon so the AFP can focus on its national defense missions.
"Hopefully, we are on the road to peace, and that we, in the Armed Forces, can finally put an end to the insurgency and focus on more important things such as our national defense," he said.
The CPP-NPA is listed as a terrorist organization by the United States, the European Union, the United Kingdom, Australia, Canada, New Zealand, and the Philippines.
The Anti-Terrorism Council also formally designated the National Democratic Front as a terrorist organization on June 23, 2021, citing it as "an integral and inseparable part" of the CPP-NPA that was created in April 1973.
Meanwhile, Department of Interior and Local Government spokesperson Undersecretary Jonathan Malaya said the failure of the CPP-NPA to extort politicians in the just concluded elections can be attributed to the efforts of the NTF-ELCAC, AFP, and the Philippine National Police.
"So, maganda po itong development na na-monitor natin nitong mga nakaraang eleksiyon (What we saw in the just-concluded elections is good development) This is not simply the accomplishment of the DILG, this is an accomplishment of the entire NTF-ELCAC, our colleagues from the PNP, and of course, our colleagues from the AFP," he said. (With a report from Lloyd Caliwan/PNA)