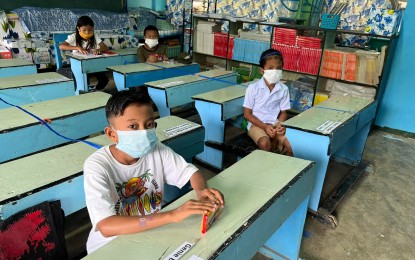 DUMAGUETE CITY – About 6,000 learners are now attending limited face-to-face classes in 10 public schools in this capital city, a Department of Education (DepEd) official here said.
Dr. Gregorio Cyrus Elejorde, DepEd-Dumaguete division of schools superintendent, in a press briefing Monday afternoon here with Education Secretary Leonor Briones, said of the 25 schools identified for the progressive expansion of face-to-face classes, 10 of them are already participating.
These include two secondary and eight elementary schools, with a total of around 20 percent learners as against the overall population of the public schools in this Negros Oriental capital.
"In the next few days, we are expecting for its (face-to-face classes) progressive expansion and we expect to create some kind of ripple reaction," Elejorde said.
The DepEd city superintendent said hopefully this will also be an "inducement" to get parents and the public to understand that "going back to school is actually a safe activity" in the midst of the coronavirus disease 2019 (Covid-19) pandemic.
Elejorde stressed that DepEd-Dumaguete is very particular with the implementation of basic health protocols as mandated by the Department of Health (DOH).
"We are looking forward to parents and other stakeholders to continue supporting" the resumption of in-person classes, he said.
Currently, three modalities are being adopted by the city division -- synchronous component of the limited face-to-face classes; online learning, particularly implemented during the asynchronous component; and the modular program for those who prefer this type.
Meanwhile, in the same press conference, Briones has expressed optimism that presumptive Vice President Sarah Duterte-Carpio will continue and improve on programs of the Department of Education (DepEd), specifically putting emphasis on basic education.
Briones, who hails from Negros Oriental and studied in this capital city, said she is hopeful that Duterte-Carpio, who was named new DepEd secretary by presumptive President Ferdinand "Bongbong" Marcos Jr., will be open to suggestions when she takes over the agency.
She highlighted the need for students to learn basic education at an early stage amid global changes, giving emphasis on science, technology, and engineering to be competitive in the world market.
"The challenge that we are facing and I am sure that you are also aware of is that we have to prepare our learners not only for face-to-face life when they go to universities or start working but for technology as well," she said.
Briones also stressed the need for students to learn mathematics and English grammar at the basic education level because it would be too late for them if they learned these in college, "given the state of English in the country".
"Much has been done but there is more to do (as) change is happening," she said.
The DepEd secretary said they are currently preparing for the transition of the agency, as she will be leaving office in July.
A series of transition meetings will be underway and it will be up to the new administration to decide what additional policies to implement, she said.
Briones visited Negros Oriental to distribute shoes, t-shirts, school supplies, medicines and face masks from various public and private organizations and donors, particularly to last-mile schools whose learners are from very poor communities. (PNA)