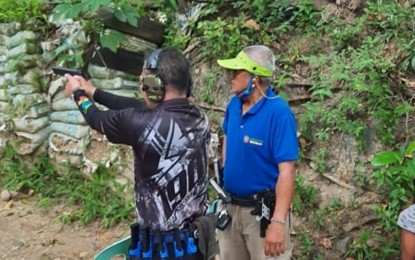 CEBU CITY – Responsible gun holders and shooters in Cebu on Tuesday thanked President Rodrigo Duterte for signing Republic Act (RA) 11766 extending the validity of license to carry and registration of firearms for up to 10 years as it will encourage up-to-date documentation of guns.
Lito Ladroma, Philippine Shooters and Match Officers Confederation's (PSMOC) national coordinator for shooters development, said signing into law the measure amending RA 10591, the Comprehensive Firearms and Ammunition Regulation Act, is a "welcome development" for responsible owners of guns, as well as those who are into shooting as competitive sports.
"That's a very favorable development for us. It will encourage the holders to regularly renew their license to own and possess firearms and to regularly register firearms," Ladroma told the Philippine News Agency (PNA) in Cebuano.
Duterte signed the new firearms law on May 6, but was released to the media on Tuesday.
The new law amended the two provisions of RA 10591 extending the validity of the licenses to carry firearms from two years up to five to 10 years, and the registration of the firearm from the previous four years up to five to 10 years.
Under RA 11766, all licenses to possess a firearm, regardless of type or classification, shall be renewed every five years or 10 years, at the option of the licensee, unless sooner revoked or suspended.
But the same as the old law, the renewal date shall be reckoned from the birthdate of the licensee.
The new law also mandates registration of the firearm every five years or 10 years, at the option of the licensee, and will be reckoned from his or her birthdate, unless sooner revoked or suspended.
The failure of the gun owner to renew his license to carry and register firearms will be a cause for the revocation of the license and the registration, as well as the confiscation or forfeiture of the firearm.
If the licensee fails to renew on two occasions, it will perpetually cause disqualification from applying for any firearm license.
According to the new law, applications for renewal may be submitted to the Firearms and Explosives Office (FEO) of the Philippine National Police (PNP) within six months before the expiration date of the license or registration.
Ladroma said shooters who are into competitive matches are also lobbying for the extension of permit to transport (PTT) firearms issued by the FEO to licensed gun-holders who want to carry their firearms from their homes to the shooting range.
The current practice allows PPT issuance covering only a certain number of days that include the day or days of the shooting competition.
But Ladroma said they proposed to increase the validity up to three months.
Incumbent and former elected officials as well as active and retired military and law enforcement personnel are now exempted under the new law from the requirement of a threat assessment certificate in applying for a permit to carry firearms outside of residence (PTCFOR).
Shooters in Cebu are hoping the PNP will soon release the implementing rules and regulations for the amendatory law. (PNA)