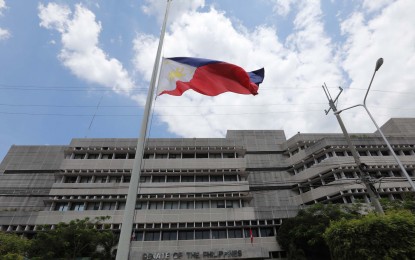 MANILA – Majority Leader Juan Miguel Zubiri said he would lead the formation of a majority bloc in the 24-member Senate to help pursue the legislative agenda of presumptive President Ferdinand "Bongbong" Marcos Jr.
Zubiri said on Tuesday that they are looking forward to working productively with the new administration for the good of the people even as other senators vowed to stay independent amid an impending "supermajority" in the 19th Congress.
"By tradition, we in the working majority will decide and elect the officers and leadership in due time. This will be done in a democratic manner, based on qualifications and values that will uphold the traditions of the Senate as an institution," Zubiri said in a statement.
Senator Sonny Angara said they belong to different political parties with different principles, ideologies, and advocacies.
"I think the 18th Congress provides a good model for the upcoming 19th Congress in terms of work ethic, leadership, productivity. Debates were long and robust but much legislation was passed to help our countrymen during a very tough time in our history. The Senate helped the President and his administration help our countrymen in their time of need with expanded and unprecedented aid programs," Angara said in a statement.
Senator Christopher "Bong" Go said he will always respect the decision of the majority and will continue to work "silently" for the interest of the Filipinos.
"Pwede po sigurong tabihan ko si (I can stay close to) [Senator] Lito Lapid," he said in jest in an interview.
Go said there is nothing wrong with speaking up if something is wrong or supporting the government if it is doing the right thing.
"Ang makikinabang po dito ang mga Pilipino. 'Yung mga mahihirap, ma-i-ahon lang po natin. Magtulungan lang po tayo (The one who should always benefit are the Filipinos. The poor ones, let's help them. Let's just help each other)," he said. (PNA)